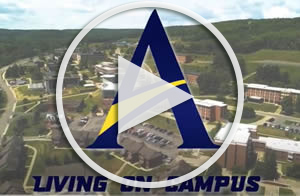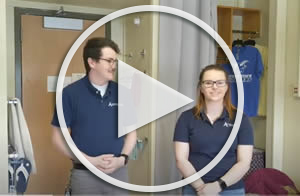 Living On Campus Preview
Get a quick look at what it's like to live in our suite, corridor, or apartment style housing. Start the tour.
Residential Life believes that a student's residence hall experience should be as individually suited to the student's needs and interests as possible. On this basis, Alfred State offers a lifestyle approach to residence hall living. Within the limits of college policy, various lifestyle areas are offered, and students may choose the area which best suits them. The following styles are located in designated areas of certain residence halls:
No Smoking – All of our residential facilities are smoke-free.
24 and Over Lifestyle – This lifestyle option was created to address the special needs of nontraditional students, e.g., self-governed quiet hours and the ability to stay in the residence hall during breaks. Available in select areas within Main Gate B only.
21 and Over Lifestyle – A student must be 21 or older at the beginning of the academic year. This lifestyle option in available select areas.
Affinity Housing – Members of recognized clubs/organizations and athletics teams will be provided preference during returning student housing sign up to live together in the suite style housing within the Townhouses, MacKenzie Complex, Main Gate A, and Main Gate B
Baccalaureate Lifestyle – Available in Peet Hall only. This lifestyle option provides an opportunity for students in the baccalaureate programs to reside together.
First-Year Housing – First-year students can live in any building other than the MacKenzie Commons Apartments and The Townhouses. Braddon Hall, Burdick Hall, and Shults Hall house only first-year students.
Gender Inclusive Housing – This option allows individuals who are not the same gender, who may identify outside of the gender binary (male or female), who may be questioning aspects of their sexuality/gender or who may be in the process (or completed) a gender transition, to live in an environment that is safe and supportive. This living space, open to the entire campus community, is requested through an application process (password required), and selected on a yearly basis by a committee dedicated to the oversight of that community.
Substance-free Lifestyle – This lifestyle is designed for the student interested in living within a tobacco-free and alcohol-free area. All guests and visitors are also required to abide by the substance-free lifestyle while visiting the area. Each student signs a contract pledging to remain substance free while living in this area. If you are not committed to the restrictions, this lifestyle is not for you.
Quiet Study – Members of this lifestyle all agree to uphold mandatory 24-hour quiet hours. Television and music are allowed in this area, but must be kept at a minimal and respectful volume. This lifestyle is available in certain suite-style and corridor-style residence halls.
Apartment Style Living – Apartment-style living for sophomores, juniors, and seniors. Services available in the residence halls include laundry and vending machines, kitchenette, study areas, and computer labs.
Our Five Living Learning Communities:
Architectural Living and Learning Community (ALLC) – Baccalaureate architecture students can study, live, work, and engage with their faculty, all in their own residence hall (Peet Hall). The ALLC provides access to architecture work labs, study space, and a gallery.
Creative House, LLC (DLLC) - Designed specifically for students in the digital media & animation or graphic & media design programs, this Living Learning Community (LLC) features studio workspaces for its residents. Students live and learn with like-minded colleagues in a space made for productive and creative collaboration. With large screen monitors, a production studio, a space to screen work, and other extras, students who live in the Creative House LLC are prepared to hit the ground running on their creative projects. Submit your application online. 
Nursing Living Learning Community (NLLC) – First-year nursing students have the opportunity to become part of a community within Burdick Hall dedicated to helping new students transition into the nursing curriculum. In addition to participating in a cohort seminar led by nursing faculty within their residence hall, the NLLC provides an atmosphere with enhanced opportunities to learn from and connect with their faculty.
PROUD Living Learning Community - The PROUD Living Learning Community is designed to assist underrepresented minority students with their transition into college. Through programming, academic labs, tutoring, and peer mentorship, first year students will get the boost needed to succeed in their first year of college. If you're interested in living in this community, submit this online form (use your Alfred State username and password to login).
Summer Prep Academy Living and Learning Community (SPA) – Students accepted into the EOP program will attend Summer Prep Academy four weeks throughout July and August. These first-year students will have the option of remaining in their summer housing building without the stress of relocating to another residence hall room for the fall semester. The SPA Living Learning Community will allow SPA students to continue to live with their EOP cohort and maintain regular contact with their summer SPA mentors throughout the academic year.