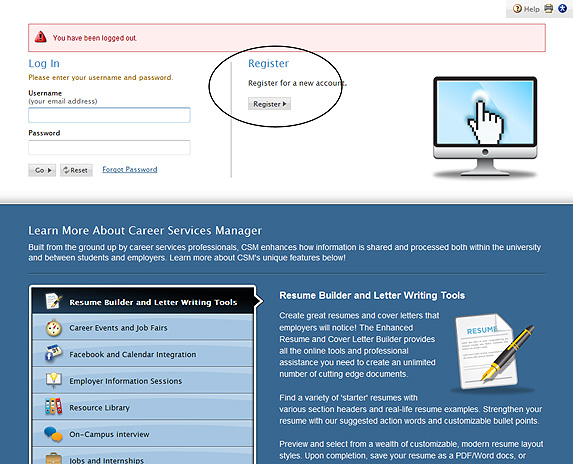 If you have not created an account in JobLink you will need to register first (returning users can log in). After completing the registration, wait for the email from JobLink verifying your registration. This email will include your password. Use this password to log in the first time. Once logged in you can change your password to whatever you like (helpful hint: use your Alfred state email or most frequently used email as your username and set your password to match your ASC password to make it easier to remember). If you get locked out, please contact Elaine Morsman by email: morsmaem@alfredstate.edu or phone: (607) 587-4060.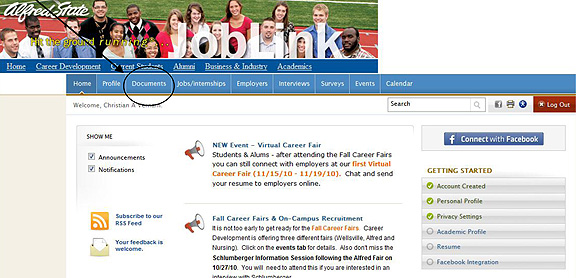 To apply for any positions you will need to create/upload a document to apply with. Click on the Documents tab and upload a copy of your résumé. For work-study positions, you will need to create a Word document (labeled as a résumé) that includes your name, the best way to contact you, and a list of the times you are available to work. For other applicants, if you haven't created a résumé yet, you can use our newest program, OptimalRésumé, to create your document to upload to JobLink.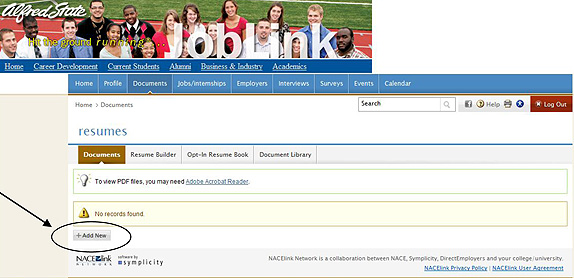 Click on "+Add New" to upload your file to JobLink.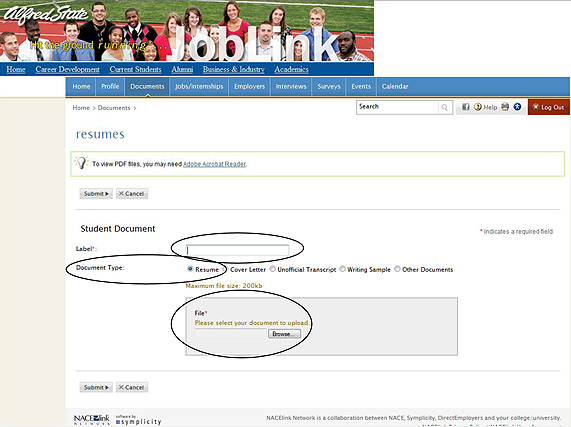 Choose a name for your document. For work-study applicants, although your document is not technically a résumé, please be sure that the Document Type is selected as "Résumé" (otherwise you will not be able to apply for a position). You have the option to browse your folders for the file you want to upload.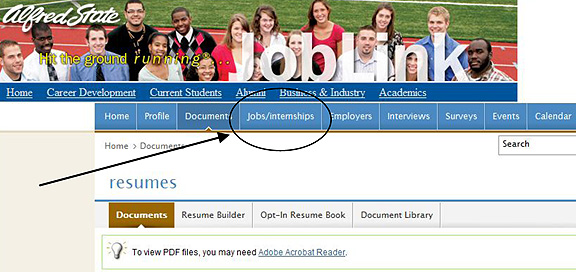 When JobLink tells you that the file is ready, you can start searching for a job/work-study position by clicking on the Jobs/Internships tab.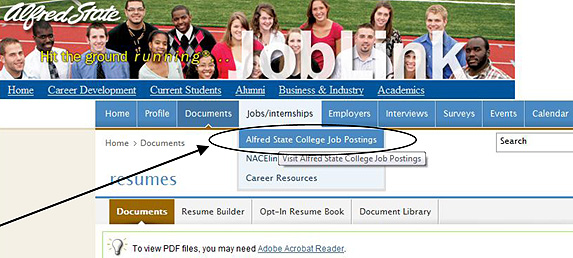 Next, click on Alfred State College Job Postings.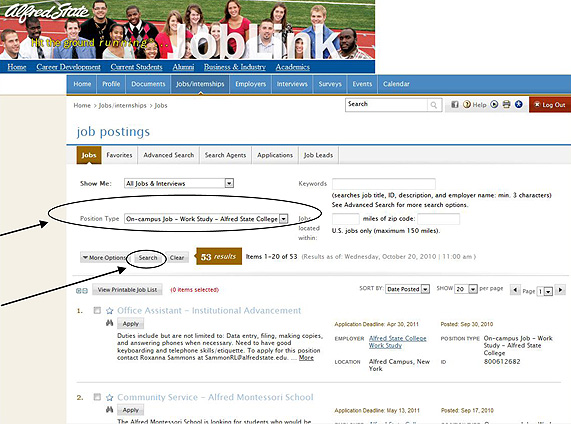 Sort by position type (e.g., work-study) by selecting the appropriate category in the position type drop down box (e.g., "On-campus job - Work Study - Alfred State College"). Then click on the search button for open positions.

If you have not uploaded your résumé or word document you will get a message alerting you that this document is needed to apply.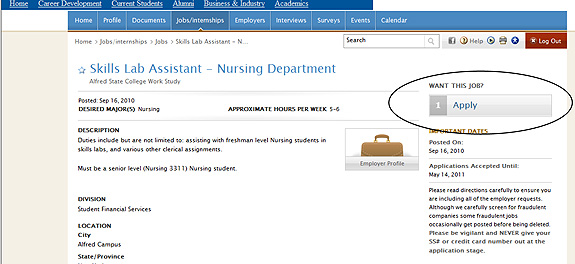 If you have provided the required documents and are eligible, an "Apply" button will be visible.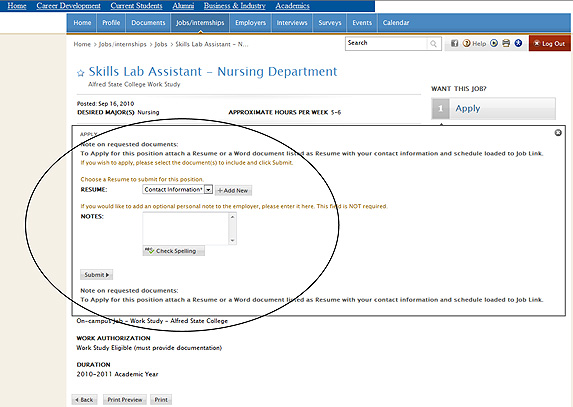 Click the "Apply" button. You will have the option to add any additional information you would like to add about yourself. Finally, click "Submit".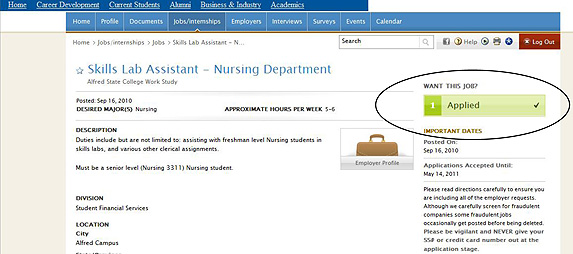 If you have successfully applied you will see this button verifying that you have applied.
Finally, you will receive a confirmation email letting you know that your application was received. And the supervisor/employer will receive an email with a PDF document containing your information.
The following information is for work-study applicants only:
Once a student has made an appointment with the supervisor for an interview, the student needs to bring with them a copy of their referral form which is proof that they are work-study eligible. The slides below show where the student can find their referral form and messages that will show if something is not completed.
Federal College Work-Study Referral Form
The referral form is available in BannerWeb. Enter the secure area, then go to Student Services and Financial Aid, then Financial Aid, then My Offer Information.

In Offer Information, click "Federal College Work Study Referral Form".

Then, select Aid Year and click submit.

When a student has no Federal College Work-Study plan, the following is displayed.

A student has not accepted the College Work Study plan. A link is provided to accept plan.

A student has unsatisfied requirements. A link is provided to see what requirements are unsatisfied.

A student is already employed.

Referral form is not yet ready for student. This may be the case when all checks have passed, but RJR0077 (College Work Study Referral Form Load) has not loaded the form into the system yet.

When a student has a referral form in the system, the following dialog boxes will prompt them to save/open the referral form.