Introduction
We understand that filing for financial aid is a complex process. While the primary responsibility for college expenses is up to you and your family, we are aware of just how challenging that can be. That is why we try to make it easier.

Financial literacy courses are available through Smart Track Financial Literacy where you can learn about a wide variety of financial matters such as budgeting, smart borrowing, and identify theft. First time users will need to create an account.
Excelsior Update - July 24, 2020
The Excelsior Shcolarship application is now available on HESC's landing page. The deadline is August 31, 2020.
COVID FAQ
We understand you may have questions related to how COVID-19 has impacted your student account and financial aid eligibility. Please review our COVID FAQ for Student Accounts for more information.
SUNY Net Price Calculator
Use the SUNY Net Price Calculator for an early estimate of financial aid and costs.
Applying for Federal and State Aid
Apply for a Federal Student Aid (FSA) ID

Dependent students and at least one parent must each apply for a Federal Student Aid ID (FSA) issued by the U.S. Department of Education. Independent students need only one FSA ID.
The FSA ID's are used to authenticate your identity and are used as electronic signatures.
For information on how to apply for the FSA ID, please watch the video.

Gather Your Information

Have the necessary tax returns and other income documentation at hand. If taxes are late getting prepared, you can estimate income and make corrections when actual data is available.

Free Application for Federal Student Aid (FAFSA)

Visit the Federal Student Aid website to start the FAFSA application.
Complete the online FAFSA and print the confirmation page as receipt of the application.

Alfred State's Title IV code is: 002854

Filing early can make a difference in your financial aid package, so be sure to complete the FAFSA beginning October 1st for the upcoming academic year.
Campus-based funding (Federal Supplemental Educational Opportunity (SEOG), Federal Nursing Loan, Federal College Work Study) is offered according to eligibility guidelines established by the federal government in conjunction with policies and procedures of the Office of Student Records and Financial Services.
Watch the video tutorials: Seven Easy Steps to the FAFSA (Flash required).

Complete New York State Aid Applications

From the FAFSA confirmation page, New York State residents are provided with a link to start your state application to apply for New York State based financial aid. You can also access the online TAP application directly.
Alfred State's TAP school codes are:

3005 - Certificate Programs
3005 - Associate Degree Programs
6005 - Baccalaureate Degree Programs

Apply for additional New York State scholarships such as the Excelsior Scholarship. Select "Other NYS Scholarships & Awards" for application information and timelines

Student Aid Report (SAR)

Check your email approximately five (5) days after submitting your FAFSA online for a link to your SAR and make any necessary corrections to your application.

Read Your Mail

The Student Records and Financial Services Office communicates with students via email and in some instances postal mail with instructions on applying for aid as well as requests for information. Be sure to read any notices that are sent and respond promptly to all requests.
Your Financial Aid Offer
All students are considered for all types of aid, and financial aid packages are made according to a student's eligibility in each program as determined by federal and state regulations. Offers are determined by financial need based on data provided by the student on the FAFSA. The offer of financial aid is conditional upon continuation of legislative authority and availability of appropriated funds. Financial need is calculated using the following formula:
Cost of Attendance - Expected Family Contribution = Financial Need
Offers are determined for accepted students with a valid FAFSA on file with the college. Students are notified by post card and via their Alfred State email account when their offers are available for viewing online. Instructions are provided to students on how to accept or decline their aid, how to check for incomplete financial aid requirements, and how to apply for the different types of aid being offered.
Types of Financial Aid
Generally, financial aid is categorized into three types.
Grants and Scholarships are considered free money and do not need to be repaid.
Loans do need to be repaid and should be considered as serious commitments.
Federal Work-Study is a way for students to earn money through a part-time job in order to contribute to their college costs.
Which type of funds you are offered will depend on your financial need, your eligibility based on each fund's specific criteria, and availability of funds at the time your FAFSA application is received by the Student Records and Financial Services Office.
More Information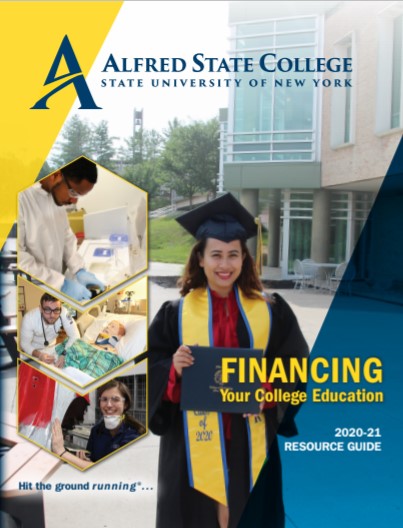 More information on individual types of aid can be found on the Understanding Your Financial Aid Offers page and also in the College Catalog.