The special initiative of our Day of Giving held on Nov. 16 challenged alumni and friends to make gifts in honor of their class year (1950s/1960s, 1970s, 1980s, 1990s, 2000s+). The day concluded with most donors coming from the 1950s/1960s! They are featured in our 2021 Fall Alumni Magazine, and will have a brick added to the Alumni Plaza to commemorate their generosity.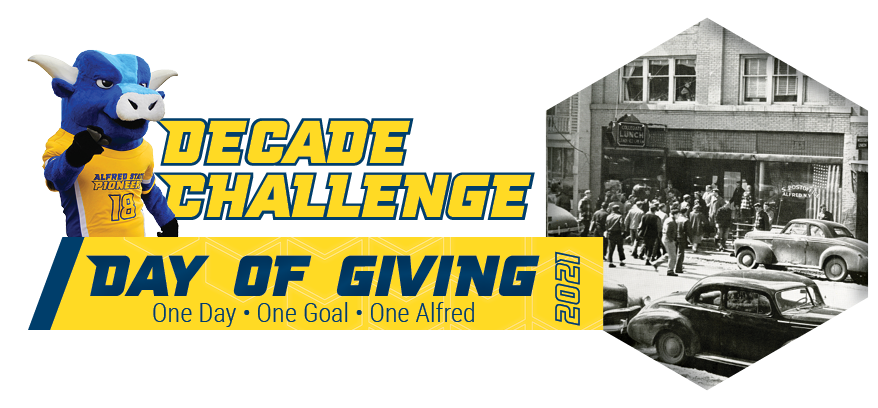 Support the

Doc Bruce
Campaign
"Doc" Bruce, as his students knew him, was the initial adviser for the Alfred State College Associated General Contractors (AGC) student chapter. He worked tirelessly with industry leaders, including the New York State Asphalt Pavement Association (NYSAPA), to connect students with industry through site visits and internships. He was also the first lead examiner for the statewide New York Construction Materials Association Hot Mix Asphalt QC/QA Certification Program. His efforts over the years made an impressive impact in the construction field through the many Alfred State graduates who are now industry leaders.
Now, two of Dr. Bruce's students who graduated from Alfred State in 1977 and are now industry leaders – Jimmy Smith, president of Advance Testing Company, and Gary Hill, president of Union Concrete Construction Corporation – are co-chairing a campaign to build The Doc Bruce Construction Materials Laboratory.
This lab would honor Doc Bruce's memory and contributions, and support students in the Civil Engineering Technology Department. The state-of-the art facility would provide outstanding experiences in laboratory and field testing of various construction materials, focusing on soils, concrete, and asphalt.
To learn more about the campaign, visit our Doc Bruce Campaign page or contact Danielle White, Executive Director of Institutional Advancement at 607-587-3935 or Whitedm@alfredstate.edu.

The CARES Act, Charitable Giving and You
The Coronavirus Aid, Relief, and Economic Security (CARES) Act, enacted March 27, is designed to help taxpayers, businesses and nonprofits facing economic hardship in the wake of the coronavirus pandemic and economic downturn.
Watch the summary from Financial Professionals and 2007 Alumni Steven Elwell & Paul Coleman.
There are several key provisions of the new law that may interest you:
1
Universal Charitable
Deduction for Cash Gifts
Individuals will be able to deduct $300 above-the-line. This universal charitable deduction will enable a taxpayer who takes the standard deduction to also benefit from his or her charitable gifts made in 2020. This deduction applies only to cash gifts to qualified charities (not donor-advised funds).
2
100% Charitable
Deduction Limit
The new law lifts the cap on annual contributions for those who itemize. The usual deduction limit for cash gifts to public charities is 60% of adjusted gross income (AGI). For 2020, cash gifts to public charities, excluding donor-advised funds and supporting organizations, are deductible up to 100% of AGI. The gift may be for any charitable purpose and is not limited to gifts for coronavirus relief.
3
Required Minimum
Distribution Waiver
The required minimum distribution (RMD) is waived for IRA and other qualified retirement plan owners for the year 2020. Loyal donors may still wish to use IRA funds to make a qualified charitable distribution (QCD). The QCD is available up to $100,000 for individuals who are over age 70½.
President's Society

Faculty & Staff
We want to thank and recognize our faculty and staff for their generous gifts to the college. We had 47% of our employees participate in Accentuate Alfred with a total contribution of $77,000. Listed below are those faculty & staff who have achieved President's Society membership ($1,000) for fiscal year 2020-21.
Denise Brownell


ACES

Joy Carlson


Professor

Craig Clark


Interim Vice President for Academic Affairs

Annie Constantine


Professor

Tammy Conrad


Office of the President

Wendy Dresser-Recktenwald


Chief of Staff

Danielle Green


Assistant Professor

Joe Greenthal


Chief Financial Officer

Jim Grillo
Jessica Lippa


Associate Professor

Russ Nunley


Chief Marketing Officer

Betsy Penrose


Vice President for Enrollment Management

Kristin Poppo


Provost

Matt Ryan


Senior Director of Residential Services

Melanie Ryan


Coordinator of Student Disability Services

Kathy Ann Sager


Associate Professor

Greg Sammons


Vice President for Student Affairs

Patrick Smith


Assistant Director of College Housing and Judicial Affairs

Janice Stafford


Assistant Professor

Jeffery Stevens


Dean for School of Applied Technology

Skip Sullivan


Office of the President

Erin Vitale


Professor and Department Chair for Civil Engineering Technology

Danielle White


Executive Director for Institutional Advancement

Jeff Wilcox


University Police

J. Joseph Wilder


Major Gifts Officer

John Williams


Dean for School of Architecture Management and Engineering Technology
During the COVID-19 healthcare and economic crisis, students face many hardships.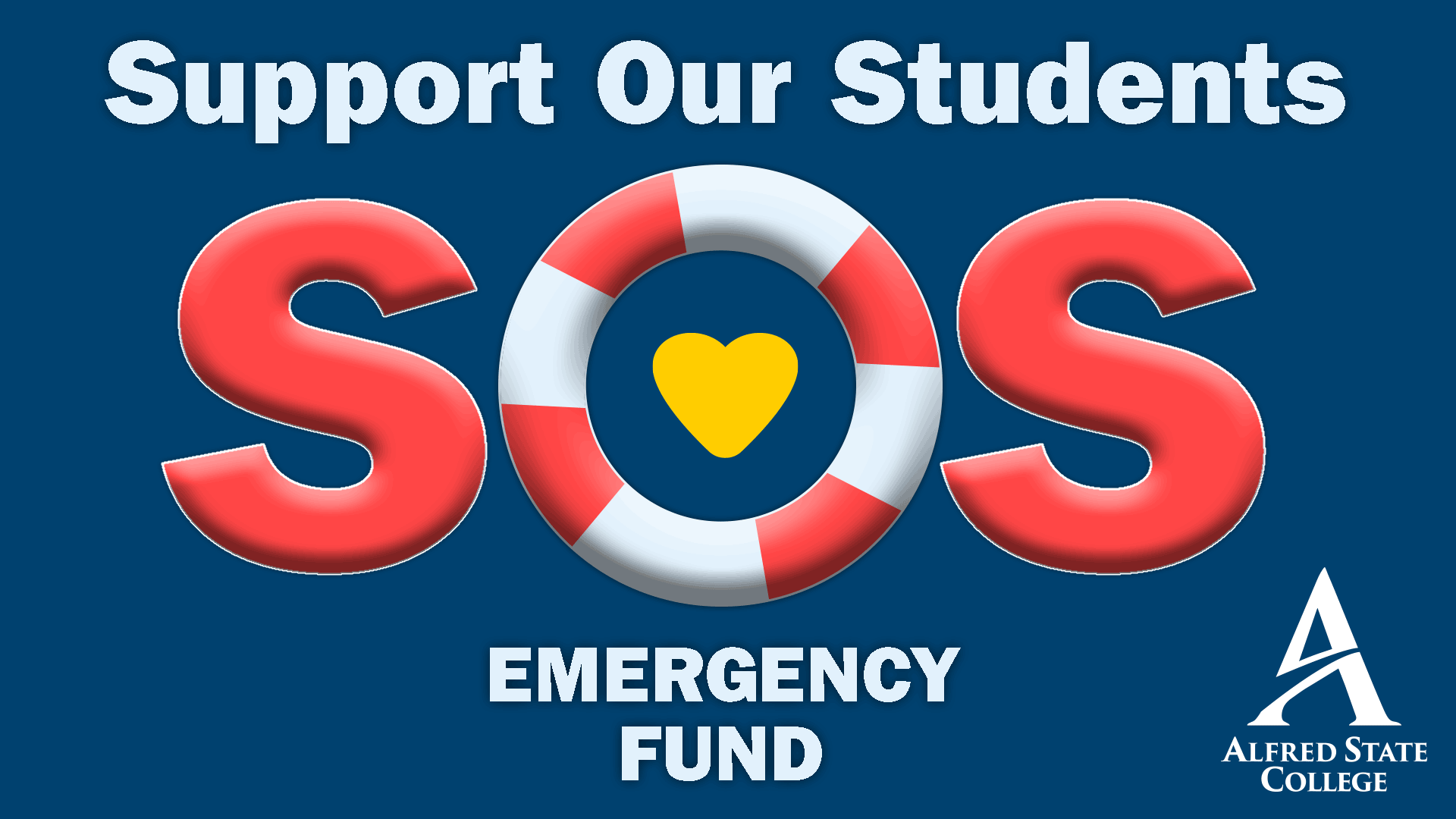 All gifts make a difference.
Even a small donation, when combined with hundreds or thousands of others, will have a positive and lasting impact on Alfred State. Education changes lives. Your gift matters!

Your Gift at Work
| | | |
| --- | --- | --- |
| Scholarships & Endowments | $349,987 | 10% |
| Gifts-in-Kind | $353,689 | 10% |
| Unrestricted Funds | $346,365 | 10% |
| Grants | $824,000 | 25% |
| Restricted Funds | $384,272 | 11% |
| Planned Gifts | $125,595 | 4% |
| Pledges | $1,044,991 | 30% |
| Completion of Fiscal Year 2020-2021 on June 30 | $3,431,913 | 100% |
Contact Us
Office of Institutional Advancement
Van Hall Alumni House
10 Upper College Drive
Alfred, NY 14802
Phone: 607-587-3930