The CARES Act, Charitable Giving and You
The Coronavirus Aid, Relief, and Economic Security (CARES) Act, enacted March 27, is designed to help taxpayers, businesses and nonprofits facing economic hardship in the wake of the coronavirus pandemic and economic downturn.
Watch the summary from Financial Professionals and 2007 Alumni- Steven Elwell & Paul Coleman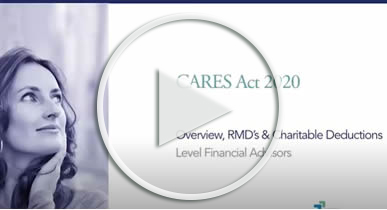 There are several key provisions of the new law that may interest you:
Universal Charitable Deduction for Cash Gifts
Individuals will be able to deduct $300 above-the-line. This universal charitable deduction will enable a taxpayer who takes the standard deduction to also benefit from his or her charitable gifts made in 2020. This deduction applies only to cash gifts to qualified charities (not donor-advised funds).
100% Charitable Deduction Limit 
The new law lifts the cap on annual contributions for those who itemize. The usual deduction limit for cash gifts to public charities is 60% of adjusted gross income (AGI). For 2020, cash gifts to public charities, excluding donor-advised funds and supporting organizations, are deductible up to 100% of AGI. The gift may be for any charitable purpose and is not limited to gifts for coronavirus relief.
Required Minimum Distribution Waiver
The required minimum distribution (RMD) is waived for IRA and other qualified retirement plan owners for the year 2020. Loyal donors may still wish to use IRA funds to make a qualified charitable distribution (QCD). The QCD is available up to $100,000 for individuals who are over age 70½.    
As always, please consult your tax advisor or attorney for advice on your specific situation.
Thank you for your support!
During the COVID-19 healthcare and economic crisis, students face many hardships.
Please consider donating to our SOS Emergency Fund.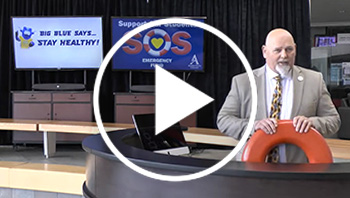 Thank you for making our 4th Annual Day of Giving a huge success!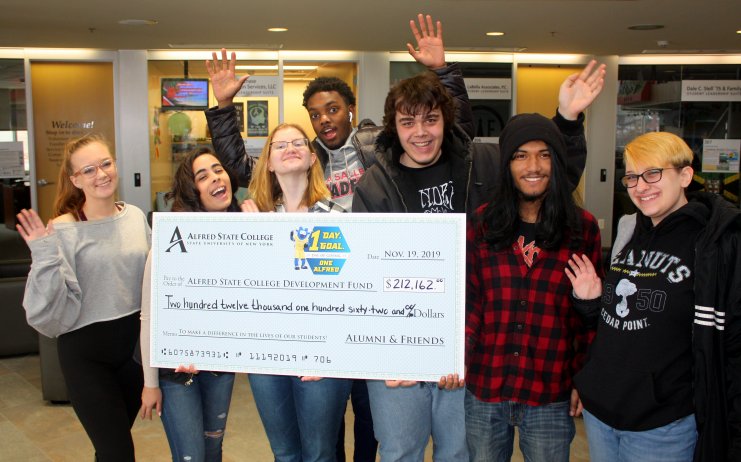 If you did not get to join us on our Day of Giving, you can make your gift today! Thank you.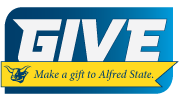 All gifts make a difference. Even a small donation, when combined with hundreds or thousands of others, will have a positive and lasting impact on Alfred State. Education changes lives. Your gift matters!

Your Gift at Work
Scholarships & Endowments: $293,555 (12%)
Gifts-in-Kind: $349,890 (14%)
Unrestricted Funds: $187,088 (8%)
Grants: $55,000 (2%)
Restricted Funds: $247,055 (10%)
Planned Gifts: $1,125,000 (47%)
Pledges: $158,935 (7%)
Completion of FY 18-19 on June 30 - $2,416,523
We want to thank and recognize our faculty and staff for their generous gifts to the college. We had 37% of our employees participate in Accentuate Alfred with a total contribution of $57,000. Listed below are those who became Club 101 members and those who have achieved President's Society membership for fiscal year 2018-19.
Club 101 Faculty & Staff
(Donors who give back 1% of their salary)
President's Society Faculty & Staff
Colleen Argentieri
Denise Brownell
Valerie Caldron
Catherine Chambers
Craig Clark
Annie Constantine
Tammy Conrad
Danielle Green
Jim Grillo
Trish Haggerty
Matt Heller
Jessica Lippa
Mike Murray
Valerie Nixon
Russ Nunley
Danyelle O'Brien
Kristin Poppo
Anna Reger
Matt Ryan
Kathy Ann Sager
Greg Sammons
Janice Stafford
Jeff Stevens
Skip Sullivan
Danielle White
Dan Woolston

Denise Brownell
Catherine Chambers
Craig Clark
Annie Constantine
Tammy Conrad
Danielle Green
Daniel Katz

Joe Greenthal
Jim Grillo
Matt Heller
Jessica Lippa
Valerie Nixon
Russ Nunley
Betsy Penrose
Kristin Poppo
Anna Reger
Matt Ryan
Kathy Ann Sager
Greg Sammons
Skip Sullivan
Danielle White
John Williams
Dan Woolston
Wendy Dresser-Recktenwald
Contact Us
Office of Institutional Advancement
Van Hall Alumni House
10 Upper College Drive
Alfred, NY 14802
Phone: 607-587-3930