To make things a little easier we've compiled information we hope you will find helpful. Keep in mind we are open for most school holidays and professional development days. We would be happy to host your school counseling staff on campus at any time. Let us know how we can help. The Admissions Office can be reached at admissions@alfredstate.edu or by phone at 607-587-4215.
Middle-skills learning opportunities at Alfred State (pdf) - Offering a wide variety of associate-level programs, a culture of hands-on learning, and an affordable education, Alfred State is poised to do its part to help fill the growing gap between qualified middle-skill employees and middle-skill jobs. Middle-skill occupations are those that require more than a high school education but less than a bachelor's degree, such as machinist, technician, and health care worker. Listen to Mike Rowe from "Dirty Jobs" make the case before congress about the need for more students to learn these middle-skills, for millions of available jobs.
Pioneering Paths for Success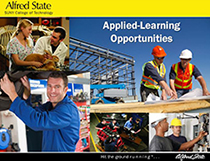 Applied learning presentation (pptx)
High School Challenge Program
This program creates inter-curricular activities for a total educational experience. High school and middle school faculty can decide which projects to use for their students. Faculty can decide how to integrate science, math, English, engineering, and technology into the projects.
Science Fair