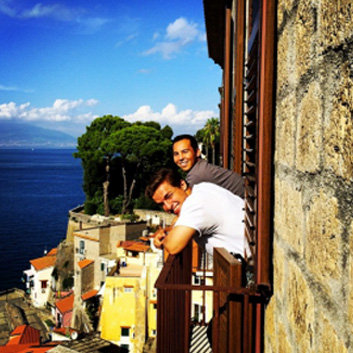 There are countless scholarship and grant opportunities out there for study abroad and finding the ones that suit you and your desired experience will involve research. We've compiled a short list to help get you started on your but consider what might make you a stand out candidate and get creative as you search.
Academic merit certainly plays a role but it is not the only determining factor when it comes to funding opportunities. So, by taking time to reflect on personal circumstance you may end up identifying scholarships that feel far more personal and attainable given your experience. For instance, first generation college goers, veterans, minority groups, or specialized language studies can all be searchable categories.
Though there are many scholarships available across the nation for study abroad, it is also worth noting the potential funding tethers within a student's own community, from businesses to places of worship, don't be afraid to explore your own backyard.
General Study Abroad Scholarships
Benjamin A. Gilman International Scholarship Program
This provides offers for US undergraduate students who are receiving federal Pell Grant funding at a 2-year or 4-year college or university to participate in study abroad programs worldwide. The scholarships are based on financial need and sponsored by the US Department of State Bureau of Educational and Cultural Affairs. More information and applications are available from IIE - the Institute of International Education.
Level: Undergrad
Offer: Up to $5,000 (plus additional bonus funds available to Gilman Scholarship recipients only)
Requirements: Must receive the Pell Grant. The student's chosen program must meet the Gilman Program's eligibility criteria.
Deadline: Oct. 7 for spring and March 7 for summer of each year. (spring and summer only)
AIFS Study Abroad Scholarships and Grants
These offer more than $800,000 to deserving students for both semester and summer programs. More information and applications are available from the American Institute for Foreign Study.
Level: Undergrad
Offer: $200 - $1,000
Requirements: Varies by offer
Deadlines: Varies
IIE Travel Grants
These are for U.S. students from a broad range of backgrounds to make it possible for them to participate in academic, internship, or service-learning experiences abroad (must be credit bearing), offering $2,000 per student recipient.
Scholarship recipients must meet all eligibility requirements:
U.S. citizen or permanent residents
Enrolled in an undergraduate degree program (associate's or baccalaureate) at a U.S. college or university that is a Generation Study Abroad Commitment Partner (SUNY is a partner);
Participating in a program abroad for academic credit, including academic study, internship, research, or service-learning during the spring, summer and fall 2018 terms; and
Demonstrates financial need.
Deadlines: Round One - Spring & Summer 2018 Programs
September 2017 - application opens
October 17, 2017 - application deadline
Deadlines: Round two - Summer & Fall 2018 Programs
January 2018 - application opens
March 4, 2018 - application deadline
For more information visit IIE Travel Grants.
Foreign Language or Location Specific
NSEP David L. Boren Undergraduate Scholarship Program offers scholarships to students interested in international academic areas as well as language study. This program supports study of languages and cultures that may not have been emphasized in the past but are deemed crucial to national security. U.S. citizens that are enrolled in an academic institution at the time of application and are planning on finishing their study abroad before they graduate are eligible. More information and applications are available from Boren Awards.
Level: Undergraduate students
Offer: $8,000 for a summer program, $10,000 for a semester, $20,000 for 6 - 12 months
Requirements: Boren scholarships are offered with preference for countries, languages, and fields of study critical to U.S. national security.
Deadline: Feb. 9
Eastern European Study Abroad (EESA) provides merit and need-based scholarships of up to $7,000 per applicant. EESA offers individual financial advising to all students and ensures that each student can study abroad.More information and applications are available from Eastern European Study Abroad.
Level: Undergraduate
Offer: Up to $7,000
Requirements: Meet minimum GPA requirements
Deadline: March 1st for fall semester, Oct. 15 for spring semester, and April 1 for summer
Number of scholarships given: 5
National Honor Society
Phi Kappa Phi Study Abroad Scholarship Programfrom the national honor society for foreign language students, offers scholarships to members for undergraduate study in programs abroad. More information and applications are available from the Honor Society of Phi Kappa Phi.
Level: Undergrad
Offer: $1,000
Requirements: Have a 3.75 GPA at an institution with an active Phi Kappa Phi chapter
Alfred State Student Specific
Student Senate Study Away Scholarship
One (1) scholarship will be offered in the amount of $500 to a student who is planning to participate in an off-campus, college-sponsored program during the 2017-18 academic year. Examples of such programs include Study in the South, Semester in Italy, and the Haiti Service Learning Project. Internships will be excluded from consideration. The recipient of this offer will be determined by their academic excellence and involvement in campus organization and/or initiatives.Self-nominations welcome!
Applications will be reviewed and selected by the Student Senate Executive Board.
The following requirements must be present for eligibility of this offer:
Must have a cumulative GPA of a 2.5 or greater.
Must demonstrate service to the college.
Must be returning for the 2017-2018 academic year.
***Please note that the following requirements must be verified before this applicant can receive a scholarship:***
Academic excellence
Eligibility for participation in a "study away" experience
The recipient of this offer will receive the scholarship once they have been selected for a "study away" experience or sooner if a financial commitment must be made before acceptance into a program can occur.
Additional Funding Opportunities
Another online resource is the Lend EDU study abroad scholarship page.