Additional information and answers to the most commonly asked questions:
What are the requirements to participate?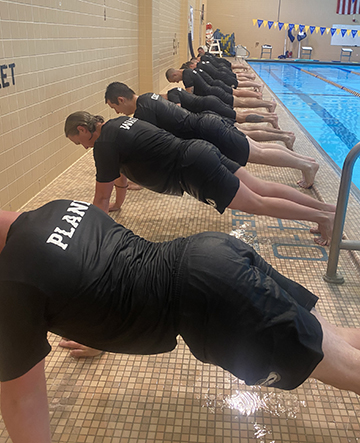 Determine if you meet the minimum qualifications and if you will be employed or seeking the pre-employment course.
Sworn officers must be:
Hired by a police department, full- or part-time, prior to enrollment in ASPA and registered as a police officer with New York State's Division of Criminal Justice Services (DCJS) on the state registry.
Pass standardized physical fitness tests.
Pre-employment cadets must be:
At least 19 years of age.
Complete a background check process (no felony convictions; other offense history will be reviewed more carefully during the application process).
Meet physical fitness and medical standards requirements.
Complete an oral interview.
How is Pre-Employment (Phase I) program different than the Employed (Phase II) program?
During Phase I of the academy, all cadets participate in all training and activities. Phase II, limited to those cadets employed by police agencies, includes modules such as firearms, counter-terrorism, baton/ASP, active shooter training, and standardized field training. Once a pre-employment cadet is hired by a police agency, the pre-employment graduate may then return to the ASPA to take the remaining course work and the required field training in Phase 2 and obtain the full police basic certification.
How long does the certificate last and am I guaranteed a job?
Both the Pre-Employment certificate and the Basic Course for Police certificate last for a period of two years. Maintaining active employment as a police officer continuously extends the certificate. Pre-employment graduates have up to two years to secure a position as a police officer (part- or full-time) in order for the certification to remain valid. This is an important consideration is assessing both the risk and timing of your potential attendance in the ASPA.
Cadets who graduate the program are not guaranteed a job! Graduates of the ASPA would need to apply for employment with police agencies of interest for full-time employment. This typically includes applying and taking civil service examinations to be placed on a candidate list.
Where will the academy classes be held?
The ASPA will use primary classroom space in the Physical & Health Sciences Building or the Engineering Technology Building on the Alfred campus. The variety of course work throughout the academy; however, will require that cadets are learning in classrooms, labs, gym, and external locations to ensure the highest quality experience for the participants.
Is the academy residential and will housing be available?
The academy does not require cadets to stay on campus but is offering housing in the Townhouses at a deeply discounted rate of $50 per week. The apartments will be shared but are single occupancy bedrooms, two full bathrooms, a living room and a kitchen. The housing option will allow both hired officers from more distant departments and students in the pre-employment program to participate with greater convenience. Please note that once the fall semester starts, and Alfred State students return to on-campus housing, the cadets will be moved to a standard two person occupancy dorm. This will happen approximately the second/third week in August.
What uniforms and equipment do I need or will be provided?
Upon acceptance and completed registration into the program, the academy will provide cadets with
* academy uniform
* one polo shirt
* one pair of BDU pants
* a ball cap
* belt
* duty bag
* First set of PT gear consisting of two t-shirts and one pair of shorts
* Penal Law Book, Criminal Procedure Law Book, Vehicle and Traffic Law book
* Duty rig consisting of a duty belt, handcuffs, hand cuff case, and holster (all property of the Alfred State Police Academy and will be returned)
Cadets are tasked with providing, wearing and maintaining black shoes or boots, and black socks and a black t-shirt as part of the uniform. Cadets must have a laptop computer. Any additional PT/DT gear and any other incidentals are the responsibility of the cadet.
Meals are not included in the ASPA. Cadets opting to live in the Townhouses will have kitchens in their apartments. There are several local establishments in downtown Alfred. Break times and breakout space will be provided to accommodate cadets at normal intervals.
What does a typical week of classes consist of?
Cadets will have classroom sessions as well as morning Physical Training (PT) or Defensive Tactics (DT) training. Multiple topics will be covered during a week span of time. There may be evening sessions depending on the topic covered. For a copy of the daily schedule, please contact Scott Richardson at richarsa@alfredstate.edu.
The course cost for the academy is $5,500. A $500 non-refundable deposit will be required to secure a space in this program.
Your payment options are:
Pay out of pocket. There is a payment plan available - please see the Alfred State Police Academy application for more information.
Veterans' benefits, if applicable.

Once the veteran/student is accepted into the program and pays the $500 deposit, the veteran/student must submit a certificate of eligibility to the assistant registrar.
After the assistant registrar verifies enrollment with chief of police, they certify enrollment with the VA.

Apply for a Sallie Mae Smart Option Loan.

Apply online to begin an application.

Enter school code: 00285498; or select Police Academy at Alfred State.
After the student is approved, Sallie Mae sends a certification notice to the loan officer to certify the loan for payment.
The loan period is May 15 - Aug. 19, 2023.
$7,350 is the maximum loan amount (certified cost of attendance) for the program.
Per federal regulations, private loan funds cannot disburse more than seven days prior to the start of the program.

Note: It is not Alfred State's responsibility to pay for the student's full cost of living during the program, only to help them budget for it.

Funds are disbursed via check to Alfred State's Office of Student Records & Financial Services (SRFS).

The student must sign the check. A representative will notify the student when their check is available to sign at SRFS. Then, SRFS transfers the funds to Online & Continuing Ed.

If the student borrows more than the tuition cost of $5,500 (and on-campus room rent, if applicable), SRFS issues a refund check to the student. A representative will notify the student when the refund check is available.