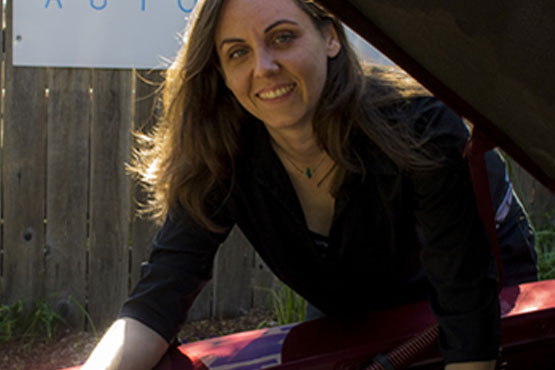 Automotive Service Technician
Owner of two successful automotive repair shops
Kate Jonasse is living proof that if you have the drive, talent, and proper guidance to pursue your dreams, you can achieve them.
Before becoming a successful technician and business owner, Kate started out as a first-year automotive service technician student at Alfred State. Though she had never even picked up a wrench before entering the program, it didn't take long for her to get the hang of things.
"Pretty soon, I was out-diagnosing other students who had more experience than I had. I went in knowing practically nothing about cars, but by the time I got out, I had a set of tools and a job with Mercedes."
The hands-on experience and the encouragement she received from her instructors at the college proved to be invaluable.
"It wasn't a shock for me to get out into the 'real world' of auto repair, because I had been working on real broken cars for two years by the time I graduated. Also, the instructors really cared about their students, and encouraged us to get certified. I was ASE Master-certified by the time I graduated in 2001, and I stay in touch with a few of the instructors to this day."
Inspired by Professor Mike Ronan's stories of working on vehicles in California in the 1970s, Kate left Mercedes and followed her heart to San Francisco, where she worked as a technician for a number of years before founding her own business in 2009.
These days, Kate is the owner of two successful automotive repair shops in Sebastopol, CA: K-Tech Automotive and Pauline's Automotive. Both full-service repair shops do "pretty much everything except body work and tires," working on all types of passenger cars and trucks of all makes and models. Each shop is a state-certified smog repair station, and Pauline's is also set up for some medium-to-heavy duty work.
"They are about a mile away from each other. It works out great. They don't compete. Instead, they help each other."
Kate said as a business owner, she loves "fixing problems and having things run better" afterward - just like when she worked on vehicles.
"I work on my business just like I used to work on cars. I look at each area: finance, operations, recruiting/hiring, marketing, public relations, legal, etc., and make them all work together so the business grows and makes money and has a solid reputation. I solve problems and make the business operations run like a well-oiled machine."
As to other women looking to get into the automotive repair industry, Kate wants them to know that there is plenty of opportunity for a career and advancement, and earning a good salary.
"There is so much opportunity for women in the automotive industry, not just as technicians, but as service writers, too. I think everyone should be able to do basic auto repair, so I encourage any woman who has an interest in cars to take some classes. There is a place for women in the industry, and the industry is craving a 'woman's touch.'"