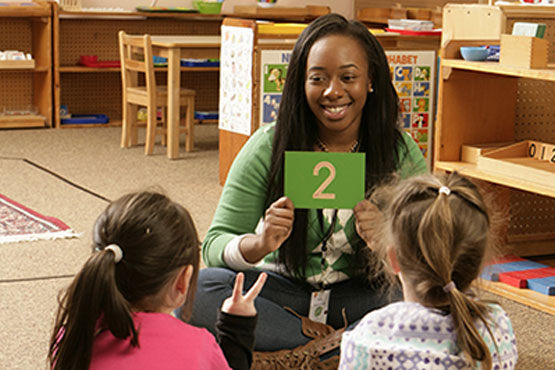 Human services
The faculty "know you personally, rather than just as a number."
After watching TV shows such as Law and Order and Criminal Minds, and researching the field of forensic psychology, Nahillah High was certain of what career path she wanted to take.
However, after Alfred State helped her land an internship at the Alfred Montessori School, she changed her mind. Rather than become a forensic psychologist, Nahillah decided she wanted to be a child psychologist instead.
"I realized, through working at the Alfred Montessori School, that I actually want to catch the problem at a young age," she said. "Say, if there is a child who has a behavioral disorder, I want to catch the problem before it progresses, so that their behavioral disorder doesn't turn into psychopathic tendencies. Usually, you see it when they're a child, so if I'm able to make a difference when they're young, it'll possibly change their life and the lives of others around them."
Throughout her internship, Nahillah worked 11 hours a week, assisting children from ages 18 months to 5 years old with daily activities, such as "snack time and circle time," she said.
"A lot of the children also liked when I read to them," she said.
Nahillah credits her internship with not only defining her career path, but also giving her patience and teaching her the correct way to talk to and handle children.
"I learned how to talk to them, be on their level, and still treat them as mature because some of them really are advanced," she said. "It's amazing."
Her internship, however, is far from being the only influencing factor of her Alfred State experience. Coming from Brooklyn to Alfred, Nahillah admits, was an "environment shock."
"I wasn't really expecting it to be this rural, so I was kind of doubting coming here, but when I came up here for Experience Alfred, the RAs were really friendly and I actually sat in for a class with Dr. Jill Amati," she said. "I was able to answer one of the questions and she was really enthusiastic about it, so she made me feel really welcome and I liked the attention."
She added, "Also, during my birthday, the college sent me a birthday card and no other school did, so that made me realize that Alfred State is caring."
Nahillah said she also likes that the faculty "know you personally, rather than just as a number," and that the classes are thought-provoking. She said what she enjoyed most about her major was learning how to apply certain skills to everyday life, such as talking to people.
"I know how to talk a little bit better now," she said, "and even in casual conversations with friends, I'll say, 'So how does that make you feel?' And they look at me like, 'Don't do that therapy.' And I'm like, 'I'm not.' Now, it's just natural."