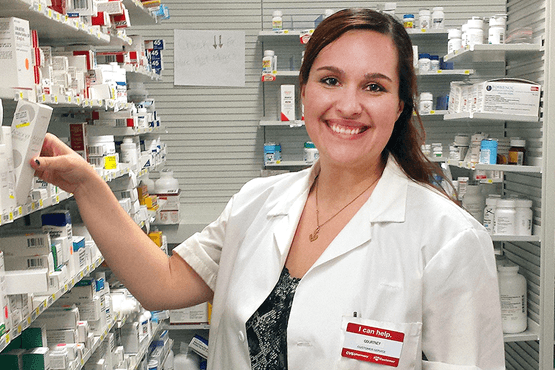 Forensic science technology (BS), biological science (AAS)
Strong work ethic and leadership skills were the direct result of her programs and getting involved on campus.
A 2013 SUNY Chancellor's Award for Student Excellence recipient, Courtney joined Student Senate as the activities chair and later became president of that organization. In addition, she co-founded Live to Fight, a group that brings awareness to all types of cancer and terminal diseases.
"Through being involved in these organizations, I learned how to delegate, how to help students grow as leaders, and how to accomplish tasks in an efficient manner while being Student Senate president. I also learned that if I am passionate about a cause or purpose and put my mind to it, I can make it happen, especially when it came to creating Live to Fight."
In her programs, biological science and forensic science technology, Courtney was able to obtain all of the prerequisites required for the Doctor of Pharmacy (PharmD) degree she is currently pursuing at the State University of New York at Buffalo. She is also now a pharmacy intern with the CVS Caremark Corporation.
"My years at Alfred State provided me the opportunity to grow as a person and as a student, creating the work ethic I needed to prepare me for the tedious and hard work that was expected of me at college, and now even more so in the doctorate program I am currently in."
She noted, "From having a 'forensic family' to fall back on within my major, to providing me extracurricular opportunities that helped me become a better leader, to giving me the foundation to become a superb candidate for admittance into my doctorate program, Alfred State was a wonderful stepping stone for me within my educational journey."
For more on Courtney's story, watch this short video on YouTube.