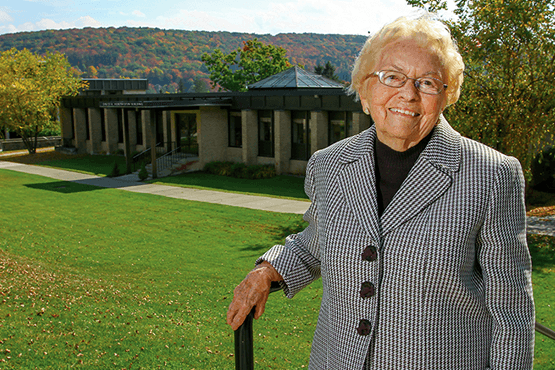 First lady of Alfred State from 1964 to 1986
An enduring and endearing presence
You may have seen her at an Alfred State sporting event, at Commencement, or exercising at the Orvis Strength and Conditioning Center.
Mary Huntington has had a strong presence at Alfred State and the nearby community since 1964, when she became first lady of the college after her husband, David, took over as the school's seventh president. David Huntington, for whom the Huntington Administration Building on the Alfred campus is named, served as head of the college until 1986.
"Alfred State really means a lot to me because David was president for quite a long time and we did a lot of things for the college," Huntington said.
Read the full article about Mary in the fall 2014 issue of Transitions.