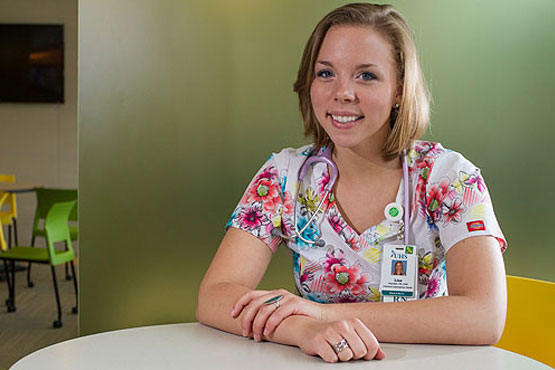 Nursing BSN, Chemical Dependency Rehab, New Horizons Inpatient at Binghamton General
Lisa had a lot of conflicting ideas about what to do with her life before entering college.
"To be honest, I sort of fell into nursing as a major. I looked at a lot of schools, thought about pre-med, law enforcement, everything. In high school I considered psychology as well," Lisa says. Today she's a 2013 graduate of the nursing bachelor's degree program at Alfred State, and she's working in the dynamic field of psychiatric nursing at one of the largest hospitals in Binghamton, N.Y. She might not have known it when she cracked open her first college textbook, but the healthcare field would soon become her calling. "Nursing, especially working in psychiatric nursing, gave me a chance to pursue nearly all my interests. And Alfred State helped me find my passion."
Like many college students, Lisa took the opportunities provided by a scholarship and the many available clubs and organizations on the Alfred State campus to expand her horizons. While earning her associate degree in nursing, she was able to participate in a service trip to Haiti with members of the Nursing faculty, work with the orientation team, get involved in blood drives, assist psychology faculty with research and upcoming publications, and jump headfirst into leadership opportunities on campus. "Growing up in the area, the mindset of a lot of locals was that they wanted to graduate and get out, but what I found at Alfred State is that there's such a community. When I looked at other colleges, I felt lost among the numbers. When I came to Alfred, the choice felt right. And it really developed into feeling like home."
After graduating, Lisa continued her studies through Alfred State's innovative new fully online bachelor's degree program while working at St. James Mercy Hospital in Hornell in their inpatient behavioral health unit. There, she was able to expand her knowledge and apply it to her working life—simultaneously.
"In the upper-level classes, we really worked towards culminating projects. Nothing felt menial. We did large projects that spanned each semester. In doing that, I learned to use research and assessment techniques to solve problems. And that's something we do every day in practice to help plan optimal care for each of our patients," she says.
For Lisa, online classes were the best delivery method for someone balancing professional obligations. "Online classes are different. They offer a lot of flexibility. I can sit down at the end of the night shift and work on them. Or during a lunch break, I can sit down for a half an hour and work on a discussion board. It takes a lot of self-discipline, but it's really great for someone who has a busy schedule. I think one of the biggest fears regarding an online degree program is that the faculty aren't necessarily right there to ask questions in person. But what I found about the faculty at Alfred State is that they're always very accessible. All I had to do was email them."
Lisa was also able to connect with the teachers on a professional level and found that their teaching methods relied heavily on experience rather than pure theory, which was perfect for a working nurse. "The faculty are all experts in their fields. There was never a feeling that they were just there teaching out of a textbook. They had the experience to back it up. And that's the kind of professor who inspires me to want to continue and maybe even teach eventually."
After earning her bachelor's degree in 2013, because of her combination of on-the-job experience and advanced education, Lisa was able to quickly launch an exciting new career at Binghamton General Hospital's New Horizons Inpatient Unit. "This is a different aspect of behavioral health. It is a program that incorporates counseling and addressing addictions with the ultimate goal of sobriety. I also oriented to Memorial 5, our most acute psychiatric unit."
For Lisa, psychiatric nursing offered her the opportunity to explore all those seemingly disparate interests from her childhood—medicine, psychology, and even law enforcement—all in one profession. But her greatest blessing, she says, has been in being able to help real people live better lives. "In this role, I am able to help the whole person. In other positions, my first priority or responsibility was to pass medicine and make medical assessments or interventions, but now there's more of an opportunity to treat the whole person, talk to them, and really help them holistically."
Watch the Lisa Reynolds, RN, BSN Video