At a glance
"Such an experience develops a fully evolved worldview for students. This is important because they will soon be employed and interacting with a wide diversity of people and cultures. Changes half a world away also impact economies and American society at lightning speed. Providing opportunities like this as part of what they've learned at Alfred State positions our students to be more adaptive and prepared for great success."
Dr. Steven Mauro
Alfred State College President
While Sant'Anna Institute and Alfred State College (ASC) are separated by 4,500 miles, their approach to applied learning and hands-on experiences are very closely aligned. Both schools are also located in scenic small towns but in strikingly different locales. Leaders of the two schools recently signed extended partnership agreements in the institute's hometown of Sorrento, a village perched atop hundred-foot cliffs overlooking the Gulf of Naples.
"As an early partner with the institute, ASC has enjoyed a great relationship and it is my impression that it is poised for continued growth," said Alfred State College President Dr. Steve Mauro. "Other schools are constantly expressing interest in following ASC's lead with Sant'Anna and it's easy to see why. Sorrento is a friendly community not far from architectural and historic wonders such as Mount Vesuvius and the ruins of Pompeii. It was thrilling to see our students at work. Their lives are shaped and transformed by this immersion in the region."
Since 2009, Alfred State Pioneers have explored Southern Italy during the spring semester. When Architecture and Design Department Chair Bill Dean and his students left Western New York in February, low temperatures were near zero. They arrived in Naples where it was 55 degrees warmer that day, and they had every reason to look forward to a very bright experience.
After more than 12 weeks overseas and enjoying the Mediterranean climate, they're coming home with new architectural skills, a wealth of knowledge about European culture, not to mention an extensive sampling of the cuisine, and a life-changing appreciation for how to work in an ever-shrinking world community.
"Such an experience develops a fully evolved worldview for students," said Mauro. "This is important because they will soon be employed and interacting with a wide diversity of people and cultures. Changes half a world away also impact economies and American society at lightning speed. Providing opportunities like this as part of what they've learned at Alfred State positions our students to be more adaptive and prepared for great success."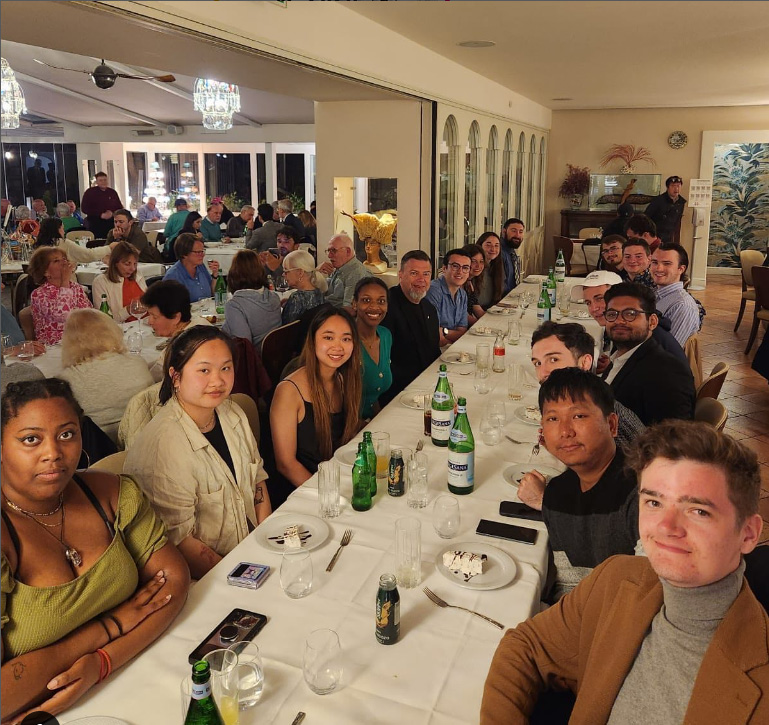 A group of Alfred State nursing students is also traveling internationally this summer. They will learn firsthand how nurses in Ireland comfort and care for their patients. Previously business students have been in Italy for multi-week internships. Alfred State students have provided nursing, veterinary, electrical, and construction assistance to earthquake victims in Haiti. Traveling to Japan, ASC digital media and animation students have visited the home of anime artists. 
President Mauro also notes, "William Dean is an excellent ambassador for this experience of a lifetime in Italy. It's so important and gratifying to see the commitment made by faculty who make study abroad possible for students." 
Professor Dean faced tremendous challenges in 2020 when Italy was hit by the pandemic. The college quickly arranged for returning flights as Italy was in crisis. Through it all, the trust students and parents had in their faculty leader was well earned as he didn't rest until everyone was safely home. 
With all the extra work and responsibility, why do Alfred State professors do it? Every year, Dean says he sees how students who have the opportunity for international studies are forever changed. "I am just the most recent in a line of faculty including Professors Emeriti Richard Carlo, Rex Simpson, and program founder, the late Jeff Johnston who care about providing students with this unique experience. However, we don't do it alone, and there are countless individuals across the campus who work very hard to make this study abroad opportunity happen for the students".
See Alfred State College and Sant'Anna Institute photos at Studio Sorrento 2023 on Instagram.