At a glance
"Any time we come together with people in the field and share the opportunities we have to strengthen the professional workforce is beneficial. We were able to outline the educational programs we have to offer here ..."
Alfred State College (ASC) hosted a forum that focused on enhancing the local healthcare workforce. Administrators from three local hospitals, St. James, Noyes, and Jones Memorial, along with Elderwood learned more about the educational opportunities available at the college.
Department chairs from nursing, physical and life sciences, and allied health outlined the opportunities available at Alfred State. Details about the recently announced partnership between ASC and the University at Buffalo that allows students to stay in the southern tier while pursuing an Adult/Gerontology Nurse Practitioner (AGNP) Doctor of Nursing Practice (DNP) degree were outlined as well (Learn more about the partnership).
Attendees took tours of the nursing educational labs, spoke with nursing faculty, learned more about the DNP degree from University at Buffalo representatives, and the day concluded with a brainstorming session on next steps to encourage growth in the workforce.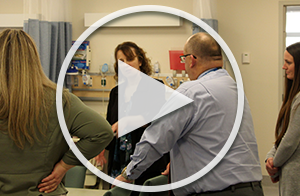 Alfred State nursing department chair Jody Blankenship was pleased to have so many local healthcare administrators on campus. "Any time we come together with people in the field and share the opportunities we have to strengthen the professional workforce is beneficial. We were able to outline the educational programs we have to offer here and maybe more significant we were able to show them the simulation labs that we teach our students in. These labs are not only tools to educate the next wave of nurses but to build the skills of those already working in the field."
Kristopher Green '97, Director of Human Resources at Jones Memorial sees the importance of working closely with Alfred State and the other area hospitals. "It is significant to have the three hospitals have a collaborative partnership with Alfred State. We work together to provide health care services for our community. Any time we get to collaborate with Alfred State and with our affiliate partners is huge for our community."
"This is huge," commented Kate Warner '08, interim Chief Nursing Officer at St. James. "It provides us with a lot of opportunities to collaborate and work as a team to fulfill the needs of the area."
Vice President of Human Resources at Noyes Health, Cassie Davis '10, echoed Warner's thoughts. "One of our biggest problems is staffing. Not only is it beneficial for people to start off doing their education here and increase their education, but Alfred State offering the use of the different clinical spaces for our current staff to train them will be very helpful."
Alfred State offers associate and bachelor's degrees in nursing along with numerous degree paths in health sciences and allied health. Students learn hands-on in simulation labs on campus and perform clinical hours in local hospitals. 
Learn more about the Allied Health Department, the Physical and Life Sciences Department, and the Nursing Department.