Thanks to its supporters and the stewardship of Steering Committee Chair Robert Healy, Alfred State's Major Gifts Campaign continues to climb toward its goal of raising $8 million and making an even greater impact on students, donors, and the college.
Alfred State launched its Major Gifts Campaign in September to raise $8 million for athletics, new programs, scholarships, technology, and the greatest needs of the college. The campaign has just exceeded $3.6 million in pledges and donations – 45 percent of its goal – thanks to the generosity of its donors such as Robert Healy, who are responding to the call for support.
Healy noted that he decided to donate to Alfred State's Major Gifts Campaign because he knows it will change lives.
"I think when you look around today, it's difficult for new students to complete a commitment for a higher education," he said. "What has always impressed me about Alfred State is their ability to teach programs where students come out with the skills that allow them to be an effective member of a workforce right away."
A 1978 graduate of Alfred State's architectural technology program, Healy has built a strong career in the architecture industry. Today, he is a firm principal at LaBella Associates, where he had previously served as president for 10 years.
For those who have the means to do so, Healy said, it's important to give back, "especially with all the other things that are going on in the world right now." 
"To be able to change lives is really rewarding and something that I think we should all make a commitment to," he said.
After graduating in 1978, Healy was hired as an architectural technician at the Pike Company. He was able to work each summer as he continued his education at Syracuse University, where he would receive a bachelor's degree in architecture.
In 1986, Healy went into private practice with another partner as they formed Monahan & Healy Architects. Four years later in 1990, he became the director of architecture at LaBella Associates, which, at the time, was a 35-person engineering company that was looking to grow into a full-service architectural-engineering company.
In 2010, after serving five years as senior vice president, Healy was promoted to president of LaBella, which had 125 employees at the time. Working with a strong support team of directors and managers, Healy helped grow the company in several ways. Today, LaBella is a broad organization, with four key service offerings: buildings, energy, infrastructure, and environmental. Its staff of over 1,100 team members is spread across more than 20 office locations.
Throughout his career, Healy has served as architect on some amazing projects, including the redesign and rebuild of the Constellation Brands-Marvin Sands Performing Arts Center (CMAC) in Canandaigua; the construction of the five-story, 170,000-square-foot ESL Federal Credit Union Corporate Headquarters in Rochester; the creation of the Hermance Family Chapel of St. Basil the Great on the St. John Fisher College campus; and the redevelopment of a former Kodak office building into Monroe Community College's downtown campus.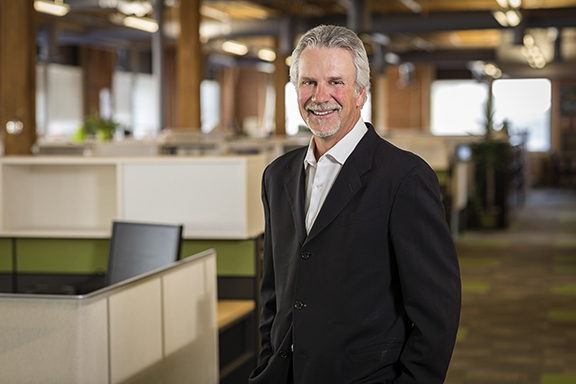 Earlier in 2020 after serving as president of the company for 10 years, Healy transitioned to a new role as a firm principal, which focuses on mentoring employees, supporting client relationships, and developing business and community relationships. He still retains ownership in the firm, continues to serve as treasurer of the Board of Directors, and maintains his architectural licenses in the 14 states where LaBella conducts business.
In addition to his professional responsibilities, Healy is a major believer in giving back and getting involved in his community. Among his many commitments, he is the chair of WXXI's Board of Trustees, a two-term president of the AIA Rochester chapter, and chair of the Alfred State Major Gifts Campaign's Steering Committee.
For more information on Alfred State's Major Gifts Campaign, contact Major Gifts Officer Jay Wilder at 607-587-4010 or at wilderjj@alfredstate.edu, or reach out to Director of Development Jason Sciotti at 607-587-3936 or at sciottjm@alfredstate.edu.