Showcasing their holiday spirit along with their baking and decorating skills, Alfred State College students took first and third place in the College category in the annual Niagara Falls Culinary Institute Gingerbread Competition.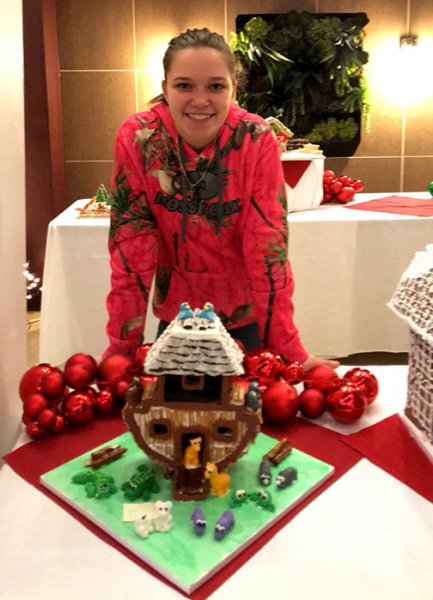 Each year, the competition is held in conjunction with the Gingerbread Wonderland event, in which patrons can visit with Santa Claus in the Culinary Institute's life-sized gingerbread house and take part in a number of holiday-themed activities on weekends in November and December. The gingerbread competition includes five categories: Professional, Amateur, High School, College, and Children's.
Earning the top spot in the College category with her Noah's Arc-themed house was Alfred State's Makayla Reiss, culinary arts: baking, production, and management, East Rochester. Alfred State's Ozorra Griffith, culinary arts: baking, production, and management, Hempstead, took home third place with her gingerbread mansion, while Buffalo State's Erica Fruscione and Niagara Falls Culinary Institute's Kara Zamerski came in second.
Reiss and Griffith were among five Alfred State culinary arts: baking production and management students who had entries in the competition, along with Eric Eddy, of Olean; Morgan Dennis, of Cameron; and Kiyonna Goodrich, of Belmont. These students along with their classmates within the senior baking class were tasked with creating gingerbread houses that, upon completion, were judged by faculty members who decided which five would be entered into the competition.
Culinary Arts Department Chair Debra Burch said, "The whole class worked very hard and it was a tough decision to choose the ones that went to the competition. I like this project because it not only gives the students the opportunity to compete, but also teaches them time management and how to work with products they are not as familiar with. They are able to be as creative as they like with this project, also. It's quite amazing to see the ideas and creativity they bring to the project. I couldn't be prouder."