Alfred State College students are working hard to complete House 55 by the end of the spring 2019 semester, and according to Building Trade Chair Jack Jones, the project is right on schedule.
Jones noted that interior finishes, the septic system, and the well are currently being installed. What remains to be completed, Jones said, is the brick face, the kitchen and bathroom finishes, sidewalks, a back patio, grade work, landscaping, and garage door installation.
"Work on the project will finish up in the spring semester," he said.
Once construction is finished, the 55th house that the college has built for the Wellsville community will include 1,800 square feet of space, three bedrooms, two bathrooms, an open-concept floor plan, a large master suite, outdoor living space, and a full basement. The house is located at 3867 Foundation Drive in Wellsville.
While still working to complete House 55, the college also broke ground on House 56 during the spring 2018 semester. This 2,010-square-foot open concept house will feature three bedrooms, two bathrooms, a large master suite, a two-car garage, a full basement, and a wraparound porch. Located at 3889 Foundation Drive in Wellsville, House 56 is expected to be completed in the spring of 2020.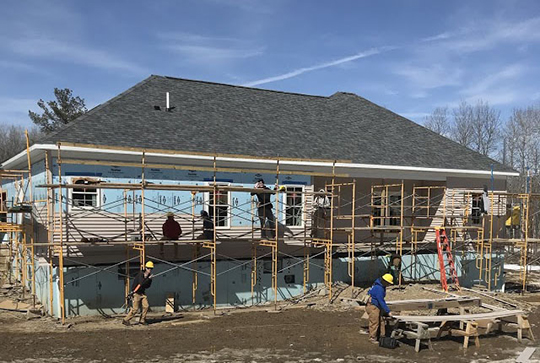 "All of the rain we've received has us slightly behind schedule, but we anticipate catching up soon," he said. "The house framing and sheathing is getting finished up now, and work on the roof will be starting soon."
The houses Alfred State students regularly build for the Wellsville community, valued at more than $200,000, take two years to complete and are then subsequently sold on the open market and occupied.
Students from a variety of disciplines work on the houses, including those majoring in heavy equipment operations; masonry; building trades: building construction; electrical construction and maintenance electrician; and heating, ventilation and air conditioning.
Students build and detail the houses in a subdivision owned by the Educational Foundation of Alfred, Inc., a private foundation dedicated to improving the Alfred State community through the support of educational programs. The Educational Foundation funds the construction of the houses.
Under the supervision of their instructors, tomorrow's craftspeople prove themselves by building for discerning homeowners. For students, it's an unmatched opportunity to put their learning into practice and gain real-world experience.