Three faculty members and one staff member at Alfred State College were honored recently with Chancellor's Awards for Excellence in Teaching, Faculty Service, Scholarship and Creative Activities, and Classified Service.
Dr. Melvin Chambliss received the Chancellor's Award for Excellence in Teaching, while Dr. Douglas Pierson was honored with the Chancellor's Award for Excellence in Faculty Service. Dr. Jon Owejan was the recipient of the Chancellor's Award for Excellence in Scholarship and Creative Activities, and Deborah Pratt received the Chancellor's Award for Excellence in Classified Service.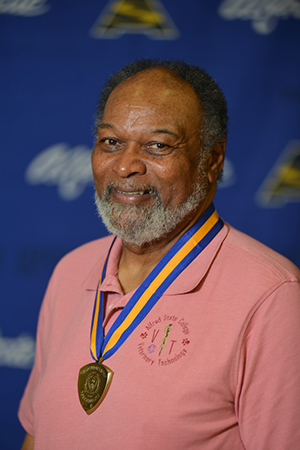 Chambliss, an associate professor in the Agriculture and Veterinary Technology Department, joined the Alfred State faculty in 1999 and was instrumental in the development of the college's veterinary technology major. He is well known for setting the bar high for his students, and the exceptional rigor of his course work provides the framework for the successful certification exam completion rate demonstrated by his students.
Chambliss' work continues beyond the classroom. He gives generously of his time in involving his students in community outreach and field experience activities across the region.
He is an active member of the American Veterinary Medical Association, the Association of Veterinary Technician Educators, and other state and regional professional organizations. He has also devoted his time and talents to assisting the Hornell Area Humane Society and the Southern Tier chapter of Guiding Eyes for the Blind.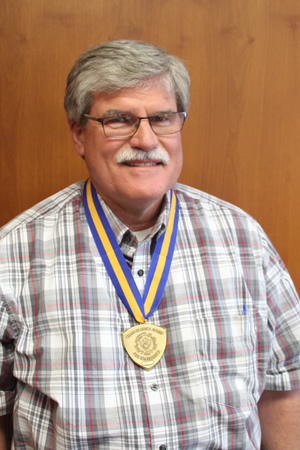 Pierson is also an associate professor in the Agriculture and Veterinary Technology Department. His participation and leadership in a wide variety of activities outside of the traditional classroom demonstrates service far exceeding that for which faculty are normally compensated.
Pierson involves many of his students with humanitarian service in Haiti, where they learn valuable skills related to the veterinary technology program while participating in once-in-a-lifetime civic engagement activities. He also involves his students in volunteer work for the area SPCA, and his relationship with that group provides hands-on experience that cannot be duplicated in a classroom.
Additionally, Pierson arranges exciting internships for his students, and encourages student participation in curriculum-related events across the state. He participates on the Editorial Review Board for Veterinary Technician magazine, and has given professional presentations at home and abroad.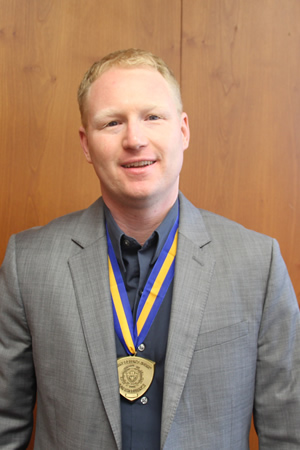 Owejan, an associate professor in the Mechanical and Electrical Engineering Technology Department, has an excellent sustained record of research activities and scholarly publications. He is the lead inventor for 24 patents, and is a noted contributor to a variety of scholarly journals in his field.
In his teaching, Owejan embodies the experiential approach that Alfred State takes to education, involving his students in a variety of outside events that pair their mechanical engineering skills with competitive experiences. His work continues outside of the classroom in a number of ways. Most notably, he has played an important role in developing a new environmentally friendly cooling system.
Owejan serves as faculty adviser to the student-led chapter of the Society of Automotive Engineers (SAE) and the American Society of Heating, Refrigerating and Air-Conditioning Engineers (ASHRHE), and has involved student members in a number of exciting experiences, both within the college and across the region. He is an active member of SAE and ASHRAE, the Two Year Engineering Science Association, and the New York State Engineering Technology Association.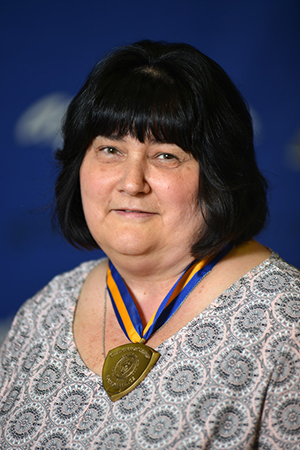 Pratt, a secretary in the Student Records and Financial Services Office, has served as a model Alfred State employee for more than 30 years, and has always made students her top priority.
She takes an impressive approach to her job and the way she connects with students. Those who are trying to figure out how to pay for college can find themselves in difficult personal and financial situations. Pratt is always calm and welcoming, making folks feel at home and comfortable in sharing their stories.
Over the years, Pratt has become the person in the office whom others look up to for advice and counsel. She is welcoming to new employees, creative in her suggestions, and steps in any time she is needed to lend a hand. She also keeps the office aware of deadlines and helps to develop processes that support students in completing increasingly complicated financial aid requirements.