As past and present employees flipped switches and turned valves to shut down the boilers at Alfred State's heating plant for the final time on Monday, they signaled the end of an era for the college, and the beginning of a brand-new, more energy-efficient one.
Since the mid-1960s, the heating plant has provided reliable service to the college, heating every building on the Alfred campus. However, since 2013, Alfred State has been involved in a boiler decentralization project to remove the buildings' dependency on the heating plant in favor of new energy-efficient boilers.
As a result, each of the buildings on the Alfred campus now contains a brand-new condensing boiler. Each of these will operate at a 97-98 percent efficiency, compared to the heating plant, which operated at about a 65 percent efficiency, according to Glenn Brubaker, senior director of Facilities Services. Brubaker also noted that current heating plant employees will now shift their focus to maintenance of the high-efficiency boilers located in the individual buildings on campus.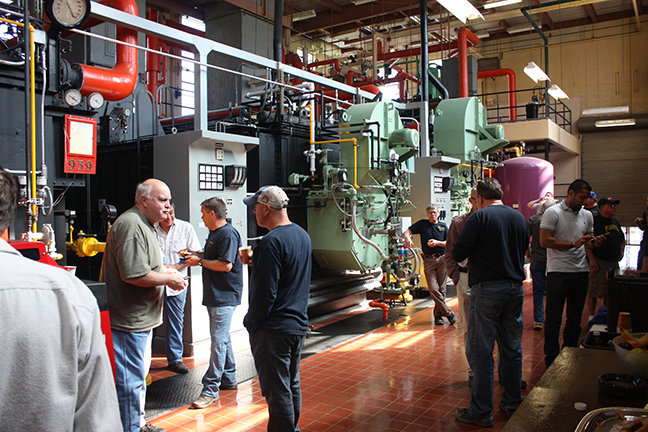 To mark the closing of the plant, the college held a small ceremony on Monday, which was attended by several heating plant employees and retirees. They came to reminisce, swap stories, and pay tribute to the facility in which they had labored for years.
Brubaker welcomed everyone in attendance, and spoke first during the ceremony.
"It's kind of sad to see a facility this nice being shut down," he said. "Kudos to all of the people who have put a lot of years into this plant. The new technology just means there will be a lot of learning experiences for the staff down here."
Also speaking at the ceremony was Dr. Skip Sullivan, president of Alfred State College. He told the past and present heating plant employees, "We appreciate the work that you have done and the years of service that you have put in here. I just want to say thank you on behalf of the college for maintaining the plant and keeping our buildings warm when they needed to be warm."