Thanks to Utica General Peterbilt, students in Alfred State College's heavy equipment, truck and diesel technician program now have the opportunity to gain some valuable applied learning experience working on a PACCAR MX-13 engine.
According to a spec sheet on the PACCAR MX-13 on Peterbilt's website, the engine has a 405-510-horsepower range, is built for durability, has an excellent fuel economy, and will require a low cost of routine maintenance throughout its life. The lightweight MX is the most common engine found in Utica General's trucks, whether they are over-the-road vehicles, or vocational models.
The company donated a PACCAR engine to the Alfred State program in the fall semester, and Joe Morrison, a fleet service manager at Utica General Peterbilt, recently visited ASC's School of Applied Technology campus in Wellsville to provide students with training on the engine. Speaking to three different classes, Morrison covered everything from repairs, to maintenance intervals, to conducting a parts search, and more.
"There are quite a few people at the dealership who were involved in this donation and making it happen and it's great," said Morrison. "They see the benefit of Alfred State having this engine and it's just a great learning tool for the students."
One of the Utica General employees who made the donation possible was Kevin Molinari, who graduated from Alfred State's automotive service technician program in 1995 and ASC's heavy equipment, truck and diesel technician program in 1996. Molinari, who is now a sales manager at Utica General's Rochester dealership, said he felt it was important to ensure that current students are working on the latest technology in the field.
"It was important to me as an alumnus to get the students the newest technology possible so that they are prepared when they come out into the field and have some knowledge of what's actually being used out in the field," he said. "I think the engine is a great asset to the school, and hopefully the students will get a lot of use and knowledge out of it."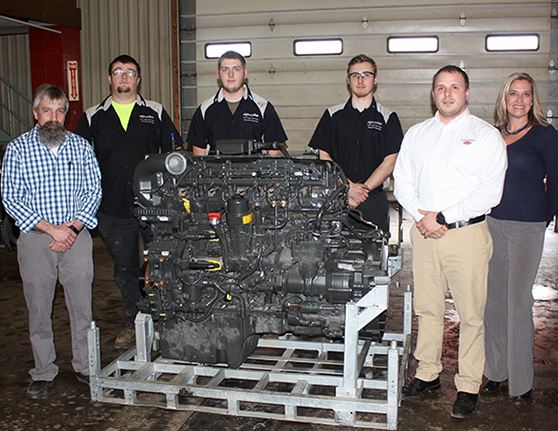 Utica General Peterbilt has five locations throughout New York State in Utica, Albany, Rochester, Syracuse, and Newburgh. As the description on its website states, the company is "your complete resource for trucks, parts, service, and more." Utica General has been serving upstate New York for almost 30 years, and sells and services the full line of Peterbilt trucks.
Eric Wilmot, Alfred State Automotive Trades Department chair and coordinator of the heavy equipment, truck and diesel technician major, said the donation is huge for the program.
"It exposes our students to the latest technology and things that they wouldn't normally be exposed to until, typically, they'd be in the field," he said. "In addition to the donation of the engine, Joe coming down and spending a full day with us teaching students how to navigate their training and reference material is a great benefit to us. I'm grateful to him, Kevin Molinari, and everyone at Utica General Peterbilt for making this donation happen."