As a result of valued partnerships with a number of companies and organizations, Alfred State College (ASC) is able to provide unique hands-on learning experiences and real-world equipment that can help turn students into job-ready workers once they graduate.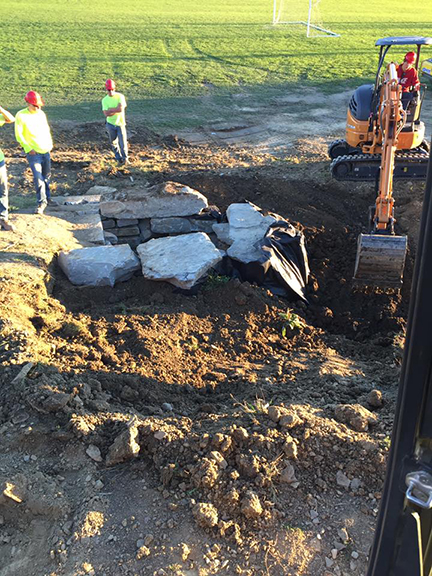 Such is the case with ASC's heavy equipment operations program, which is enjoying a second yearlong lease agreement with Monroe Tractor. The company has continued a partnership with the School of Applied Technology in Wellsville to provide the use of three new pieces of construction equipment to heavy equipment operations students. The partnership offers real-world experience, exposing students to industry trends through use of the latest technology in construction equipment.
In the last two years, students have benefited immensely by the use of these pieces, according to Jack Jones, chair of the Building Trades Department. Last year, four pieces were leased. This year, Monroe Tractor has leased a skid-steer, a backhoe, and an excavator at greatly discounted rates.
"The Building Trades Department is grateful to be able to use the latest industry technology to prepare students for work in the industry," said Jones. "It's fantastic to partner with companies who contribute to the education of our future workforce in such tangible ways."
Last year, the equipment was used for on-campus projects, such as the creation of the snow tubing hill. This included final lighting installation, as well as grading and expansion. Additionally, the equipment was used for the Meservey Hill House 54 project, and will soon be used for the construction of House 55.
The equipment was also used for a river access improvement project in Genesee, PA. Overall, about 80 heavy equipment operations and 40 truck and diesel students gain exposure to the equipment in these applications and in multiple practice labs, according to Building Trades Professor Mark Payne.
"This partnership is a wonderful opportunity to expose students to the latest technology and train them on equipment available in their hometown," Payne said. "Monroe Tractor has been a very gracious partner and we hope to continue that relationship in the future."