While she may not have laced up her skates, Alfred State's Cassidy McCourt had an important role to play at the 2018 International Ice Hockey Federation (IIHF) World Junior Championships.
Held in Buffalo from Dec. 26 to Jan. 5, the event featured the best men's players under the age of 20 from 10 nations, including the United States, Canada, Belarus, Czechoslovakia, Denmark, Finland, Russia, Sweden, Switzerland, and Slovakia. This was only the fifth World Junior Championship to be played in the United States and the second time it has been played in Buffalo.
Throughout the tournament, McCourt, a sport management student from Buffalo, was able to develop her professional skills even further by serving as a host for the on-ice officials. She also provided game day operations and event management assistance during the IIHF World Junior Championship Outdoor Game between the US and Canada on Dec. 29 at New Era Field in Orchard Park.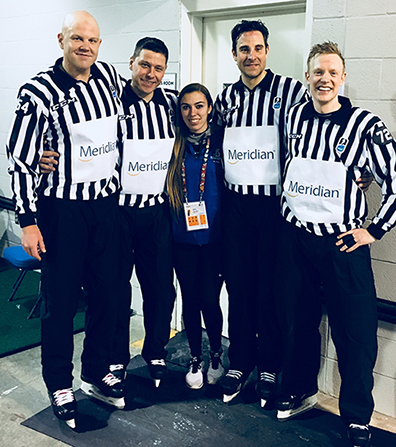 With 44,592 in attendance, the United States overcame a two-goal deficit to defeat Canada 4-3 in a shootout that day. Canada would go on to win the gold medal in the overall tournament, however, with Sweden earning silver and the US taking home bronze.
McCourt said working at the IIHF World Junior Championship was an incredible experience.
"Being able to experience and work behind-the-scenes of such a prestigious event opened up many opportunities," she said. "As a host, our jobs began before the tournament did. It was our job to make sure everything ran smoothly and everyone adjusted well to being in Buffalo."
Additionally, McCourt noted that she made a lot of connections with referees, players, and coaches from all over the world.
"Working in hockey has always been my goal," McCourt said, "and this tournament has helped me to get one step closer to that."
John Lisec, an assistant professor in Alfred State's Business Department, said McCourt's experience at the 2018 IIHF World Junior Championship successfully exemplifies the Alfred State sport management program's emphasis toward applied learning and hands-on learning approaches.
"In addition to understanding theoretical concepts and project-based learning within the classroom, Cassidy's dedication to developing tangible, job-ready skills outside the classroom reflects the well-rounded nature of Alfred State's sport management students," Lisec said. "Her passion and desire to be successful within the sports industry is an excellent example of students within our program."