When it comes to getting real-world experience in the sport management field, Alfred State's related programs are a slam dunk.
One student who can certainly attest to that is Kiana Sleight, a sport management major from Canaseraga. As a result of the skills and knowledge she has gained in her program and a connection she made on LinkedIn, Sleight was able to assist one of the most storied college basketball schools of all-time with its 2017 Countdown to Craziness night: Duke University.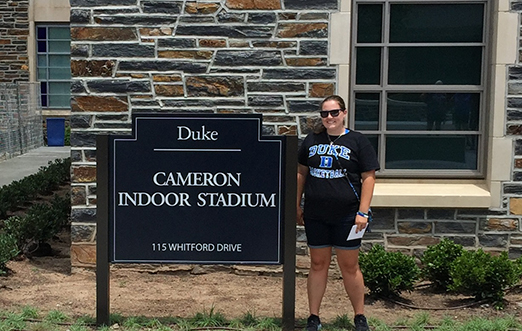 Countdown to Craziness featured a night of entertainment, games, engaging videos, and on-court contests, all leading up to the introduction of the 2017-18 Blue Devils, the unveiling of this season's team poster, and the annual Blue-White scrimmage, according to www.goduke.com.
During the week she was in Durham, NC, Sleight took part in a significant hands-on learning experience within the college sports industry, assisting in the preparation, production, and execution of in-game contests such as the Tobacco Road Contest, the Delta Airlines Contest, and McDonald's Contest presented by IMG.
Sleight worked with Debbie Krzyzewski Savarino, assistant director of Athletics for Special Events and director of the Legacy Fun, and Nicole Jones, director of Sports Marketing and Promotions, gaining significant management experience through promotional events, preparation of Duke basketball players for the events, assisting in the men's basketball dunk contest, and running the women's basketball autograph event following the Blue-White scrimmage.
"Going to Duke was a great experience and an excellent way for me to take my classroom knowledge that Alfred State provided me with and apply it to real-life sporting events," Sleight said. "This was also a big jump out of my comfort zone, as I went to work with an elite athletic program in a completely new place. I also had the great opportunity to work with highly known individuals, so this was a great way for me to separate being a fan versus being an employee."
Sleight added, "I am so grateful for the encouragement of my professors at Alfred State to use LinkedIn, which ultimately led to this experience. I cannot thank the Duke Athletic staff and Sport Marketing and Promotions staff enough for having me and providing me with a great experience."
John Lisec, an assistant professor in the Business Department, said, "Kiana's involvement with Duke University's men's and women's basketball programs provides significant insight into the scope and range of the Alfred State sport management program. She is a wonderful example of how our students truly embrace hands-on learning opportunities, and are truly invested in gaining the necessary skills from sport industry executives, leaders, and innovators."