The nation's best-known promoter of skilled trades is proud of the accomplishments of a recent Alfred State graduate. Mike Rowe's foundation is sharing the multi-generational story of Aaron Aumick, a building trades: building construction graduate from Port Jervis. Rowe, the television host widely recognized for his "Dirty Jobs" and "Somebody's Gotta Do It" series, leads a scholarship program that enabled Aumick to earn his associate degree.
"They say the apple doesn't fall far from the tree," Rowe's foundation recently posted on Facebook. "In 21 year-old Aaron Aumick's case, that couldn't be more accurate. Both Aaron and his father are volunteer firefighters and carpenters. So are Aaron's grandfather and great-grandfather, making Aaron a fourth-generation firefighter and carpenter."
Aumick applied for the scholarship after he discovered that his own personal perspective matched Rowe's S.W.E.A.T. Pledge. The acronym stands for Skill & Work Ethics Aren't Taboo. Aumick submitted a video application to the foundation and earned the scholarship funds to complete a two-year degree at Alfred State.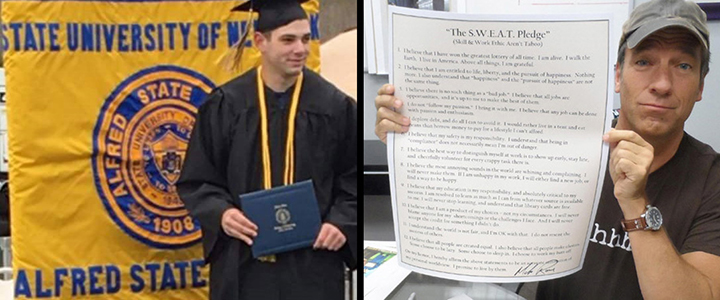 "Not only did Aaron successfully earn his degree, he also earned the dean's award for academic excellence," stated Deborah Goodrich, associate vice president for Enrollment Management. "Mike Rowe and his foundation are tremendous advocates for encouraging more people to gain trade skills and in doing so, to help fill millions of good-paying, available jobs. We share Rowe's passion for career-preparedness and his pride in Aaron's career choice."
"Since I was a kid I always wanted to be a volunteer firefighter," stated Aumick. "I decided I wanted to be a carpenter when I realized how much I enjoyed using my hands and building different things with my father and grandfather. I decided to go to school for this trade because of the employment availabilities."
Through the Work Ethic Scholarship Program awarded to Aumick, Rowe's foundation provides financial assistance to qualified students with a desire to learn a skill that is in demand. The foundation has granted more than $3 million for use at trade schools across the country.
According to the charity, mikeroweWORKS Foundation rewards people with a passion to be trained for skilled jobs that actually exist. As CEO of the Foundation, Rowe spends a significant amount of time speaking about what he calls the country's dysfunctional relationship with work, highlighting the widening skills gap, and challenging the persistent belief that a four-year degree is automatically the best path for the most people. While advocating for more career and technical training, Rowe has also testified before congress regarding millions of American jobs that remain unfilled due to a lack of skilled applicants.