Just over two years after work first began on House 54, the newest home constructed by Alfred State students for the Wellsville community is now completed and the new owners now call it home.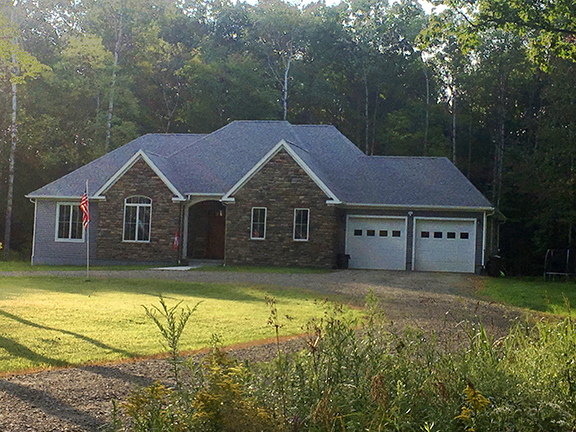 Sitting on more than five acres of land on Foundation Drive, the 2,199-square-foot, French country-style three-bedroom house includes a covered rear porch with a wood-burning fireplace, a full basement, a formal dining room, a laundry room, a two-car garage, a home office area, and more.
Students in the heavy equipment operations, air conditioning and heating technology, building trades: building construction, masonry, and electrical construction and maintenance electrician programs all had a hand in the construction. Work on the house began in April 2015 and wrapped up this past May. Since House 54 attracted a buyer earlier this year, the new owners were able to witness the construction underway while also selecting finishes and fixtures for their new home.
The houses Alfred State students regularly build for the community, valued at more than $200,000, take two years to complete, and are then subsequently sold on the open market and occupied.
Students build and detail the houses in a subdivision owned by the Educational Foundation of Alfred, Inc., a private foundation dedicated to improving the Alfred State community through the support of educational programs. The Educational Foundation funds the construction of the houses.
Speaking about House 54, Jack Jones, chair of the Building Trades Department, said he is proud of the work the students were able to accomplish.
"Like the others that came before it, this home was the result of a lot of hours of hard work by many students from a number of disciplines, all under the guidance of our knowledgeable instructors," he said. "These projects provide excellent real-world, hands-on experiences for our students, and also benefit the local community."
Timothy Corkey, an Almond resident who graduated this past spring with a building trades: building construction degree, said working on House 54 was a great experience.
"Being able to put into practice what we learn about in the classroom, and also gain real-world experience that is going to prove valuable on the job someday is incredible," he said. "It's also very rewarding to see the finished product and know that you had a hand in its creation."
Even before the paint dried on House 54, the Building Trades team already started work on House 55 last April.
"We're very proud of our tradition of constructing high-quality houses for the Wellsville community and being able to provide an unmatched opportunity for our students to put their learning into practice," he said. "It is through lots of hard work by our students and faculty, as well as the generous support of the Educational Foundation, that we are able to build these homes. We look forward to continuing this tradition for many years to come."