For the fifth straight year, TD Ameritrade Institutional awarded NextGen RIA Scholarships of $5,000 each to students around the country who are pursuing bachelor's degrees in financial planning. Among the dozen recipients this year was Alfred State's own Adam Wilkins, a financial planning major from Rochester.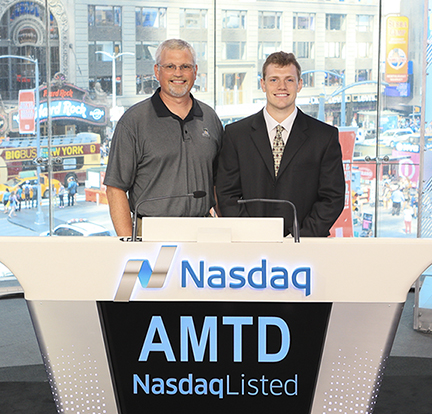 As one of the scholarship winners, Wilkins traveled to New York City, where he participated in a tour of the Financial District given by TD Ameritrade. Wilkins and his fellow winners were able to visit the Nasdaq MarketSite in Times Square and help ring the closing bell on July 18.
"I felt honored to have been chosen as one of the recipients of the TD Ameritrade NextGen Scholarship," Wilkins said. "Going to New York City and ringing the Nasdaq closing bell was an amazing once-in-a-lifetime experience that I am grateful and blessed to have been a part of. It is both exciting and encouraging to see TD Ameritrade's commitment to the next generation of financial advisors, and I look forward to giving back so freely in the same spirit in which they have done."
In addition to the scholarships, TD Ameritrade Institutional awarded grants to two universities as part of its effort to encourage more schools to develop or enhance their financial planning degree programs, and help increase the ranks of graduates joining the RIA (registered investment advisors) industry.
Kate Healy, managing director of Generation Next for TD Ameritrade Institutional, spoke to the scholarship winners about the great demand for young financial planners and offered ways they can enhance their job prospects.
"There will be more retirement parties than graduation parties in the RIA industry over the next few years," Healy said. "We encourage aspiring financial planners to stay engaged with their schools and their program directors, because that's where most independent advisors go when they're looking for young talent."
TD Ameritrade is an industry leader in developing programs designed to raise awareness of the outstanding career prospects in financial planning and in encouraging more universities to expand their degree programs. Over a 10-year period, TD Ameritrade has committed to investing more than $4.5 million through scholarships, grants, and other education programs.