Lt. Gov. Kathy Hochul called upon educators to "create that spark" that will ignite interest in STEM careers in her keynote address for the 2017 New York State STEM Summer Institute, hosted at Alfred State.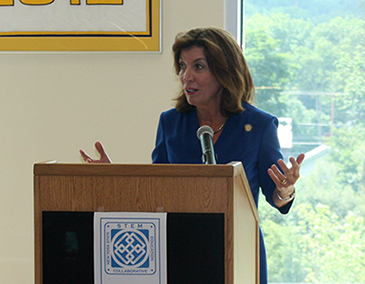 ​Hochul was among the numerous distinguished speakers and educators of kindergarten through higher education who gathered at the college recently to discuss and share best practices for increasing interest in science, technology, engineering, and math (STEM) careers among young men and women. The three-day conference featured presentations and workshops that focused on sparking interest in STEM through classroom projects, afterschool activities, and more.
In her remarks, Hochul noted the importance of getting young women interested in STEM careers, which, in New York State, she said pay about $30,000 more per year than the average salary. She told the educators present that it was "up to all of you in your various capacities to create that spark" of excitement about STEM careers.
"You are teaching and inspiring people to go into fields where I have employers begging for people to have these skills," she said. "I chair the governor's Regional Economic Development Councils. That puts me in contact with employers all over the entire State of New York every single day. They don't complain about the taxes in New York, they don't complain about the regulations, they don't complain about Albany. What they complain about is not having workers with the skills they need to step into the jobs."
Hochul also complimented the advanced manufacturing early college program that resulted from a partnership between Alfred State and Buffalo's Burgard High School. The program trains students in skills such as automotive technology, welding, and machine tool technology. She concluded by reminding the educators that they are changing young people's lives.
"The governor and myself want to thank you for that commitment," she said. "Your legacy will endure in these kids because of something you did or the people you work with or the organization you're with. You'll inspire them to go into the field and have a better future than they would have if they had not been touched by someone in this room."
Dr. Craig Clark, vice president for Economic Development at Alfred State, said, "The 2017 STEM Institute at Alfred State was the perfect place to hear Lt. Gov. Kathy Hochul and her passion for STEM education. This is the No. 1 topic across the United States and with economic developers in New York State."
During the conference, Clark received the 2017 Margaret Ashida Outstanding STEM Leadership Award for being an avid and engaged supporter of STEM education and STEM learning in a multitude of ways.
Also receiving Margaret Ashida awards were Dr. Candice Foley, professor of chemistry at Suffolk County Community College (Higher Education STEM Leadership Award), Marc Chiffert, managing member of CHIFFERT Engineering PC (STEM Workforce Leadership Award), and Dr. Mark Vaughn, manager of technical talent pipelining for Corning Inc. and lead for the Technology Community Office of STEM (PK-20 STEM Leadership Award).