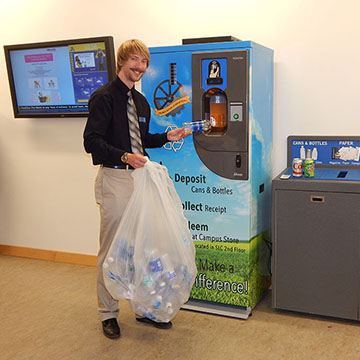 Looking to wipe out improperly discarded bottles and cans on campus, Alfred State has now made available a reverse vending machine to students, employees, and community members alike.
Located on the first floor of the Student Leadership Center (SLC), the machine is now available for use during normal SLC hours, 7 a.m. to midnight each day, and will be available 8 a.m. to 4 p.m. Monday through Friday as of May 15 (summer hours). Users from both on-campus and the public may bring in only plastic bottles and metal cans (no glass) to be recycled, for a receipt to be redeemed for cash within 30 days at the Campus Bookstore, located in the same building.
To mark the availability of the new machine, the college recently hosted a ribbon-cutting ceremony during its Earth Week festivities. Students, faculty, and staff gathered to watch as Student Senate Executive Vice President Eric Hulbert (network administration, Mexico, NY) and AmeriCorps VISTA member Cassandra Bull were the first to use the new bottle and can recycling machine. Both Bull and Hulbert were instrumental in bringing the machine to campus.
Bull said students and employees made a push for many years to bring a reverse vending machine to campus, and that she can't believe they finally got one.
"We're really proud of it. Right now, it's our job to spread the word about this great opportunity that isn't 12 miles away to return bottles and cans," she said, referring to the nearest redemption center a dozen miles away in Hornell. "Hopefully, it will lessen the amount of waste on our campus."
Provided by the Tomra Recycling Company, the machine's exterior wrap was designed by digital media and animation major Callie McIntosh, of Canton. The machine was paid for through the Alfred State Student Senate's Green Pioneer Sustainability Grant, which provides funding for Alfred State students working in environmental-related projects.
Jonathan Hilsher, director of the Center for Civic Engagement at Alfred State, said it is exciting to see this student initiative come to fruition.
"This is just the latest example of the creative ways that Alfred State students are addressing sustainability challenges," he said.
Looking to the future, Alfred State plans on increasing the amount and variety of its machines and expanding their locations to residence halls and other buildings on campus.