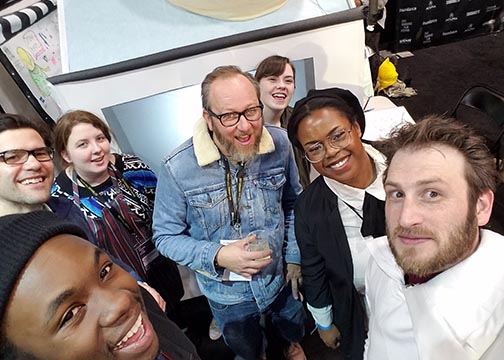 Three Alfred State students were cast in a big supporting role recently when they assisted their professor and his art collective on a project for the 2017 Sundance Film Festival in Park City, Utah.
Founded in 1978 by actor Robert Redford, Sundance is the largest independent film festival in the United States, and is a showcase for new work from American and international independent filmmakers.
Alfred State digital media and animation students Taylor Stevenson (West Seneca), Nia Seward (Newark Valley), and Jillian Gregory (Andover) each lent their talents to Assistant Professor of Digital Media and Animation Jeremy Speed Schwartz and his art collective, "The League of Imaginary Scientists," on a participatory animation project for the festival called "The Social Cinema Machine." The project was in collaboration with the Sundance Institute and the festival's audience.
According to Speed Schwartz, The Social Cinema Machine film was mostly created in response to audience reaction to the festival and current events.
"Animated sequences were prepared as coloring-book images based on feedback from surveys, which were handed out to audience members while they waited in line for films," Speed Schwartz said. "We collected them after they were colored, scanned them, and put them back in order in the animated sequence. The final animation was projected in an installation at the Sundance Awards Party."
Founded in 2006 by Speed Schwartz, Lucy HG Solomon, and Steve Shoffner, The League of Imaginary Scientists art collective is dedicated to installation, film, and interactive art that crosses the borders between art and science. In December, the Sundance Institute approached the League about the possibility of collaborating on a project for the festival.
Following a series of proposals, the Institute selected The Social Cinema Machine. Once funding was received from the provost's office, Alfred State students traveled to Utah to work on the project under the direction of the League, along with students from California State University (CSU) San Marcos.
"The students were integral to the completion of the project, and were involved in every step of the process," Speed Schwartz said. "They were responsible for distributing and collecting the frames, as well as the creation of some of the animation. They were also present for the premiere at the awards party, where they were responsible for outreach to the public, keeping the interactions going, and documentation of the piece."
Other principal collaborators of The Social Cinema Machine included artists Steve Shoffner and Leonard Trubia, and Elizabeth Greenway, director of development operations for the Sundance Institute. The League also received equipment support from Canon Inc.
To view the finished product, visit www.SocialCinemaMachine.com.