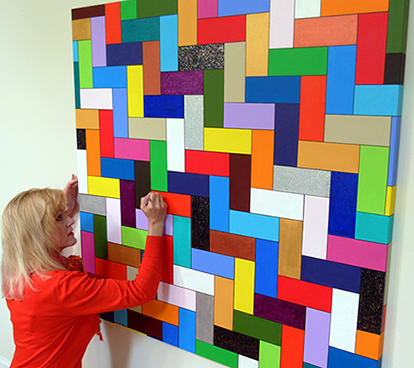 For those wondering why school buses are yellow and fast food restaurants employ red in their color schemes, color theory instructor and award-winning contemporary artist Ivy Stevens-Gupta will shed some light on why color matters in an upcoming presentation at Alfred State.
Stevens-Gupta will present in the spring 2017 lecture series of the Architecture and Design Department on Feb. 9 at 5 p.m. The event is free and open to the public, and will take place at the college's Orvis Activities Center Auditorium. A reception will follow from 6:30 to 7:30 p.m. at the Hinkle Memorial Library, during which refreshments will be served.
After studying art at Alfred University, Stevens-Gupta received her AAS in business administration from Corning Community College, a BS in marketing and an MS in liberal studies from SUNY Empire State College, and a certificate in interior design from Interior Design Institute. She is a former advertising manager for Gannett Newspaper Division and corporate relations director for Johnson at Cornell University.
Stevens-Gupta currently teaches color theory and painting, and works as a marketing consultant. Her vibrant paintings can be found in homes and offices all over the world and have appeared in several books on contemporary international artists.
Color can express various emotions and moods and adds brilliance to everyday life. In her lecture "Color Matters: Introduction to Color Theory," Stevens-Gupta will discuss how color is used in global marketing, the psychological and cultural connotative properties of color, and the science behind color. Guests are invited to bring laptops or tablets to the lecture in order to participate in an interactive color test.
While on campus, check out Stevens-Gupta's solo art exhibit at the Hinkle Memorial Library Gallery, on display now until March 3. To view her work online, visit Ivycreativedesigns.com.