A new cooling system invented at Alfred State gained inspiration from the human body to find a unique solution. The same way sweating cools body temperature, this new design can improve chilling efficiency by how it handles waste heat.
Current air conditioning and refrigeration technologies, based on hydrofluorocarbon (HFC) refrigerants, have improved lives by providing people with an easy way to cool their homes and food. However, compared to carbon dioxide (CO2), HFC refrigerants can have a more than 2,000 times greater global warming potential.
"Government and environmental organizations have been pushing hard to phase out the HFC refrigerants that we use today, but so far they haven't been successful because there are very few good alternatives," said Dr. Jon Owejan, assistant professor of Mechanical and Electrical Engineering Technology at Alfred State.
Owejan and Nathan DeMario, of South Wales, a senior majoring in mechanical engineering technology, aim to change that. They have invented an advanced cooling system that doesn't require a chemistry degree to understand how it works; it uses water instead of refrigerants to carry heat out of buildings.
"It works based on the same principle at play when you sweat," said Owejan, who is the founder of the Energy Storage and Conversion (ESC) lab at Alfred State, where his research focuses on energy conversion devices. As you perspire, water evaporates from your skin, carrying away excess body heat and cooling you down.
"We are using that same concept, but we put our system in a vacuum so that evaporation happens much faster," said Owejan. "Then we get rid of the water vapor, which carries away the heat used to make the liquid water evaporate, by sending it into the outdoors through a membrane that is permeable only to water. It's an enhanced evaporative system that is very energy efficient, small in size, and uses no toxic refrigerants."
Owejan, who previously worked as a fuel-cell researcher at General Motors, where he received 29 patents for his inventions, noted that his new cooling system is particularly useful for mid-sized buildings and facilities such as data centers that generate lots of waste heat. This is because Owejan's system uses the waste heat that would previously have been dumped outside as an unusable by-product to accelerate the transfer of water vapor across the membrane, thereby increasing its already high cooling efficiency.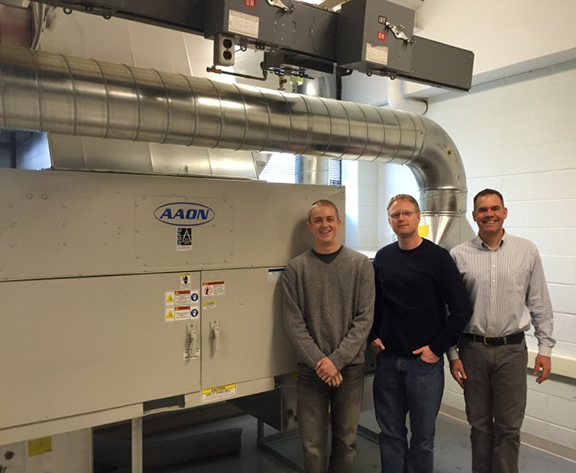 According to Owejan, larger facilities can take advantage of waste heat in a similar way by installing absorption chillers, but smaller companies can't afford the high costs of installing and maintaining these systems. "Once you talk to customers who experience the pain and frustration of having to dump expensive heat energy outside during the summer, our proposition to utilize that waste heat becomes very appealing. It will save them a lot of money in the long run."
Following selection through a competitive application process, the team is currently participating in NEXUS-NY—a NYSERDA-sponsored clean energy start-up accelerator program that has assisted more than 30 entrepreneurial teams across the state with financial, business, and educational support.
NEXUS-NY requires these teams to identify and seek input from potential customers to better position their technology for a successful entry into the marketplace. As a result of this exercise, the SUNY Alfred team pivoted its marketing focus from the environmental benefits of their water-based technology to the economic advantages of their unique architecture that leverages waste heat to improve chilling efficiency.
Now busy building a proof-of-concept prototype, the team plans to form a start-up company, called Phase Innovations, to commercialize the product. DeMario is working to integrate all of the parts to produce a standalone cooling unit. He is also testing various membrane materials to determine which ones will provide the optimal characteristics.
"Current membranes are expensive," said DeMario. "We believe that by designing our system based on less expensive materials, we will significantly reduce the overall cost of ownership, including both purchase and maintenance of the system."
Beyond the research, DeMario says working on the project has been an incredible experience. "The NEXUS-NY program and mentorship has made me appreciate how much value can be gained by paying attention to the business case early on. No matter where my career goes, I will use this experience to integrate customer feedback into my engineering specifications early in the development process."
Owejan agrees that the relationship with NEXUS-NY, as well as with Steven Wood, assistant director for innovation services at the Research Foundation for SUNY and entrepreneurial lead for SUNY Alfred's NEXUS-NY team, have been the key to their success so far.
"They really forced us to go after the customer and understand what the customer needed," he said. "In fact, they asked us to contact 50 potential customers. We wouldn't have had the confidence to do that without the mentorship of NEXUS-NY and the Research Foundation."
NEXUS-NY Executive Director Doug Buerkle noted that while many interesting and innovative technologies are invented in university research labs, very few ever find their way into commercial use.
"Our mission is to promote promising, research-derived energy innovations and catalyze the formation of start-up companies in New York," said Buerkle. "By helping entrepreneurs to get on the right track early on, we significantly increase their chances of commercial success."
Owejan said the next step for his cooling system is to develop a strategic partnership with a large air conditioning manufacturer. "Ideally, we would shift a lot of our current design work to their engineers so they can get it ready for manufacturing," he said. "Then we will continue to do what we do best, research and development of next-generation prototypes that are focused on improved cost, performance, and durability."