Alfred State celebrated the achievements of more than 370 students during the 32nd annual Honors Convocation held Sunday, April 17, with Dr. Kristin Poppo, provost, presiding over the event, and SUNY Distinguished Teaching Professor of Mathematics and Physics Lawrence E. Burns serving as grand marshal.
The Alfred State Concert Band played the academic processional to open the ceremony, which was followed by the singing of the national anthem by the Alfred State Men's Quartet. Larry Greil, adviser of Hillel at Alfred, gave the invocation.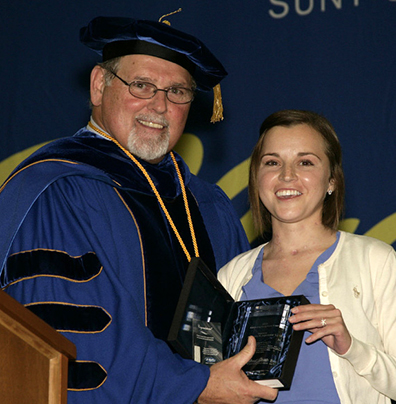 Following the welcome by President Dr. Skip Sullivan and the provost's remarks, Dean's Awards for Academic Excellence were presented by the deans of the three schools, Ana McClanahan (School of Applied Technology), Dr. John Williams (School of Architecture, Management, and Engineering Technology), and Dr. Robert Curry (School of Arts and Sciences). The recipients of the awards were Aaron Aumick, building trades: building construction, Port Jervis; Sarah Jastrzab, applications software development, North Tonawanda; and Vivian Rohe, nursing, Freedom, respectively. The deans later handed out the Student Awards for Excellence.
Receiving the Provost's Award for Academic Excellence was Fred Dumond, construction management engineering technology, Liberty. Gregory Sammons, vice president for Student Affairs, recognized Katelynn Andera, forensic science technology, Ellicottville; and Anna Campbell, technology management, Geneseo, as the Chancellor's Awards for Student Excellence recipients. Sammons later presented Travis Armison, instructional support assistant in the Agriculture and Veterinary Technology Department, with the Freshman Advocate Award.
Patricia K. Fogarty, chair of the College Council presented the Leadership through Civic Engagement Award to Karla Chun, forensic science technology, Broadalbin; and Chevon Phillip, applications software development, Brooklyn. Receiving the Newman Civic Fellows Award from Fogarty was Kemar Kidd, business administration, Bronx.
Sullivan presented the Distinguished Alumni and Outstanding Young Alumni Awards to 1985 graduate Thomas Blackwell (chemical technology) and 2011 grad and Hornell resident Alexandra M. Argentieri (liberal arts and sciences: social science).
Christopher Yarnal, director of Campus Ministry at St. Jude's Chapel, gave the benediction, and the Alfred State Concert Band played the academic recessional to close out the ceremony.
In photo: President Dr. Skip Sullivan presents Alexandra M. Argentieri, '11 with the Outstanding Young Alumni Award.