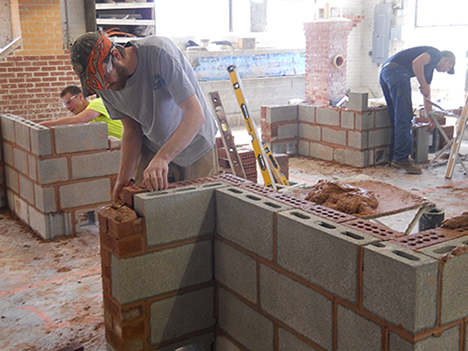 The 2016 SkillsUSA New York State Leadership and Skills Conference Postsecondary Championship, held mainly on Alfred State's Wellsville campus, pitted 60 students from two schools against each other in one of the nation's most prestigious showcases of career and technical aptitude on Saturday, March 26.
Schools competing this year included Alfred State and the State University of New York (SUNY) at Delhi. All competitions took place on the School of Applied Technology campus in Wellsville, except for Precision Machining, which was held on the Alfred campus.
Contests begin locally and continue through the state and national levels. The SkillsUSA state winners are eligible to compete in the 52nd National SkillsUSA Championship, held in Louisville, KY, June 20-24. More than 6,000 students compete in 100 occupational and leadership skill areas.
Winners from the March 26 championship, by competition, are as follows:
Automotive Refinishing
THIRD PLACE winning the BRONZE MEDAL: Jacob Legg, Pavilion (Alfred State)

SECOND PLACE winning the SILVER MEDAL: Timothy Tripp, Little Genesee (Alfred State)

FIRST PLACE winning the GOLD MEDAL: Nick Reale, Wellsville (Alfred State)
Automotive Service
THIRD PLACE winning the BRONZE MEDAL: Cody Bartz, Alexander (Alfred State)

SECOND PLACE winning the SILVER MEDAL: Ulysses Grant, Piffard (Alfred State)

FIRST PLACE winning the GOLD MEDAL: Scott Erdman, Jeffersonville (Alfred State)
Carpentry
THIRD PLACE winning the BRONZE MEDAL: Sean Ryan, Batavia (Alfred State)

SECOND PLACE winning the SILVER MEDAL: Alexander Miller, Shinglehouse, PA (Alfred State)

FIRST PLACE winning the GOLD MEDAL: Kevin Kiefer, Greenville (SUNY Delhi)
Commercial Baking
THIRD PLACE winning the BRONZE MEDAL: Jahlani Turner, Brooklyn (Alfred State)

SECOND PLACE winning the SILVER MEDAL: Danielle Vaughn, Limestone (Alfred State)

FIRST PLACE winning the GOLD MEDAL: Andrea Koston, Rochester (Alfred State)
Culinary Arts
THIRD PLACE winning the BRONZE MEDAL: Callie Trudell, Chase Mills (Alfred State)

SECOND PLACE winning the SILVER MEDAL: Mahogany Lemon, Buffalo (Alfred State)

FIRST PLACE winning the GOLD MEDAL: Yveline Vergin, Brooklyn (Alfred State)
Diesel Technology
THIRD PLACE winning the BRONZE MEDAL: Jonathan Weronski, East Concord (Alfred State)

SECOND PLACE winning the SILVER MEDAL: Jacob Macken, Alden (Alfred State)

FIRST PLACE winning the GOLD MEDAL: Ryan Balcerzak, Elma (Alfred State)
Electrical Construction Wiring
THIRD PLACE winning the BRONZE MEDAL: Matthew Pettersen, Commack (SUNY Delhi)

SECOND PLACE winning the SILVER MEDAL: Adam Hoy, Alden (Alfred State)

FIRST PLACE winning the GOLD MEDAL: Michael Zurenda, Binghamton (SUNY Delhi)
Masonry
THIRD PLACE winning the BRONZE MEDAL: Brandon Cline, Belmont (Alfred State)

SECOND PLACE winning the SILVER MEDAL: Brennon Zenoski, Belmont (Alfred State)

FIRST PLACE winning the GOLD MEDAL: Trevor Huntley, Conklin (Alfred State)
Precision Machining
THIRD PLACE winning the BRONZE MEDAL: Patrick Murphy, Staten Island (Alfred State)

SECOND PLACE winning the SILVER MEDAL: David Ermer, Belmont (Alfred State)

FIRST PLACE winning the GOLD MEDAL: Alan McNamara, Holland (Alfred State)
Technical Drafting
THIRD PLACE winning the BRONZE MEDAL: Brandon Remey, Middletown (Alfred State)

SECOND PLACE winning the SILVER MEDAL: Taylor Miller, Randolph (Alfred State)

FIRST PLACE winning the GOLD MEDAL: James Mcadam, Tonawanda (Alfred State)