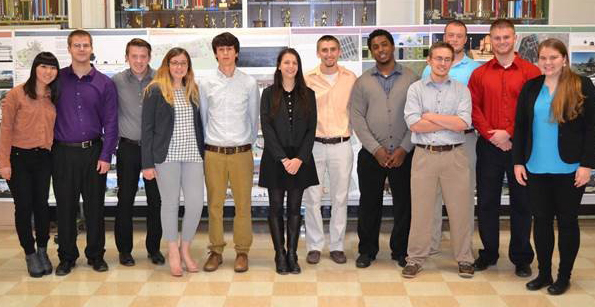 The town of Southport received some assistance with envisioning its recently approved comprehensive plan after Alfred State architecture students presented their designs that looked five, 10, and 15 years into the future development of the municipality. The presentation took place Nov. 11 at the Southport Fire Hall.
Town officials and more than 25 residents listened as 12 students in Professor William Dean's Urban Design Studio shared their Community Visualization Study for five sections of Southport. The study included two areas in Center Southport along Broadway Street, Southtown Plaza on Cedar Street, and residential areas in the Lower Mt. Zoar and Universal Village districts.
Individual proposals from the students involved placing a new pedestrian bridge over Route 14 that would connect the bulkhead to a walking trail along Seeley Creek, a new community center in Center Southport, infill housing to serve people in a range of income levels and age groups, and general improvements that would make Southport safer for pedestrians and bicyclists.
Dean, a professor of Architecture and Design, said the goal was to illustrate the great work done by the town in developing its comprehensive plan, and show how Southport could be transformed over the next 15 years from a thoroughfare that people pass through on their way to and from Elmira, to a true destination that builds on its location as a gateway to the Southern Tier.
"We tried to remain as faithful to that document as possible," he said. "Students were encouraged to bring their own design experience to the project, but I kept driving home the point that we wanted our work to be an extension of the comprehensive plan."
The students spent nine weeks on the project, which began in August with a tour of the town led by Supervisor David Sheen, and included the completion of a Neighborhood Development Analysis to study the existing conditions, and an interim critique by a panel composed of Sheen; Deputy Supervisor Kathy Szerszen; and Nicolette Barber, a planner from HUNT Engineers, Architects and Surveyors out of Horseheads. The students took those comments to heart and continued to develop their designs for the final presentation.
According to Dean, the students' designs were given a lot of positive feedback throughout the process and were well-received during the presentation.
In photo above, from left to right are Alfred State students Chiharu Kamioka, of Tochigi, Japan; Eric Lipes, of Cicero; Clayton Lounsbery of Liverpool; Beth Parker of Campbell; Shane Joyce of Irondequoit; Liz Deuell of South Wales; Kodie Tompkins of Savannah; Andrew Scott of Arverne; Serif Hajdarevic of East Syracuse; Brady Morrison of Kennedy; Jayson Perrine of Syracuse; and Stacy Duink of Hamburg. All are architectural technology majors except Duink and Parker, who are Bachelor of Architecture (BArch) majors.