At a glance

"This was an excellent opportunity for Alfred State and Alfred University students to display their talents and abilities on a national scale," Richardson said. "They were also able to receive a valuable hands-on learning experience unlike any other, which will undoubtedly benefit them in their careers once they graduate."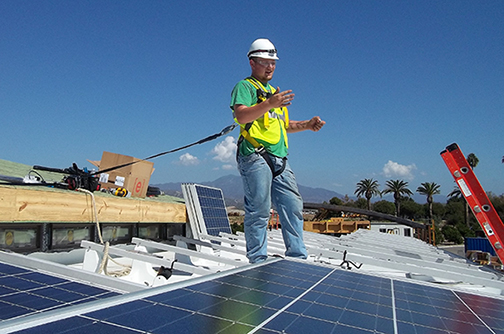 Team Alfred, consisting of Alfred State and Alfred University students, came away with third-place awards in the "Affordability" and "Comfort Zone" contests in the 2015 US Department of Energy Solar Decathlon.
Held this year from Sept. 28 to Oct. 18 in Irvine, CA, the Solar Decathlon challenged collegiate teams to design, build, and operate solar-powered houses that are cost-effective, energy-efficient, and attractive. Fourteen teams competed in the 2015 event.
Team Alfred's entry was a nearly 900-square-foot zero-energy home for middle-class families in rural western New York. Alfred State and Alfred University also collaborated on a submission for the 2013 Solar Decathlon, held in Datong, China.
In the Affordability contest, teams received up to 100 points for achieving a target construction cost of $250,000 or less. Team Alfred earned 98.14 points for its house.
The team, which finished 11th overall in the competition, also racked up a third-place award in the Comfort Zone contest, in which competitors were given up to 100 points for maintaining narrow temperature and relative humidity ranges during specified periods of time. Team Alfred received 89.205 in this contest.
Dr. Craig Clark, dean and executive director of the Alfred State School of Applied Technology, said Team Alfred received positive feedback on the quality of work of the house, inside and outside finishes, livability, open space, and on the home in general.
"We are proud of the student work and student participation in this national event," Clark said.
Sean Ryan, an Alfred State building trades: building construction major from Batavia, said the competition provided a great real-world experience.
"You're boosting your resume and getting to meet people from all over," he said. "Plus, you get the actual feel for what you'll eventually be doing in your career."
Aaron Aumick, an Alfred State building trades: building construction major from Port Jervis, noted that the construction industry is heading toward green building, and that having experience with that is pretty unique.
"Not a lot of people get to build a house like we did," he said. "Even union carpenters are just doing commercial jobs or stick-framing, and we're getting the experience of seeing what the future can bring."
Also making the trip to California was Joe Richardson, chair of the Alfred State Building Trades Department. He said he is proud of all of the students who had a hand in bringing the Team Alfred Solar Decathlon house to fruition.
"This was an excellent opportunity for Alfred State and Alfred University students to display their talents and abilities on a national scale," Richardson said. "They were also able to receive a valuable hands-on learning experience unlike any other, which will undoubtedly benefit them in their careers once they graduate."
Alfred State students who made the trip to California are listed below, by major:
Building trades: building construction
Jacob Vannorman, Mount Morris.
Courtney Yauchzee, LeRoy.
Sean Ryan, Batavia.
Ryan Williams, New Baltimore.
John Sexton, Sunnyside.
Aaron Aumick, Port Jervis.
Michael May, Moravia.
Anthony Paterniti, Panama.
Adam Morrison, Hilton.
Tyler Hussey, Piffard.
Zachary Gross, Cuba.
Air conditioning and heating technology
Technology management
Travis Harvey, Almond.
Patrick Kay, Caledonia.
Electrical construction and maintenance electrician
Adam Hoy, Alden.
Lucas Mumm, Hamburg.
Ryan Kozlowski, Buffalo.
Four Alfred State alumni also went to California. Their names, along with their degree names, towns, and graduation years, are Brandon Young (construction management: engineering technology, Cheektowaga, 2010) and Jeffrey Pasnik (building trades: building construction, Medina, 2004), both of the Northeast Regional Council of Carpenters; Kristin Szkolnik (architectural technology, Liverpool, 2014); and Kathryn Dussing (architectural technology, Syracuse, 2015).
Alfred University students who participated are:
Saeed Azad, a mechanical engineering graduate student from Iran; Tchabelino T. Azimyt from New York City, Patrick R. Byrne, of Hamburg, Nolan Jessop, of Churchville, and Dylan A. Tucker, of De Ruyter, all senior mechanical engineering majors; Bernard Dolecki, AU Class of 2014, School of Art & Design; Taylor A. Kelley, a junior mechanical engineering major from Wellsville; Avery O. Sandler, a senior, dual major in mechanical engineering and renewable energy engineering from Israel; and Jessica Scoones, of Deansboro, a senior renewable energy engineering major.
AU faculty advisers are Dr. Wallace B. Leigh and Dr. Xingwu Wang, both professors of engineering in the Kazuo Inamori School of Engineering.
Team Alfred is grateful for all of its sponsors, and would like to thank LeChase Construction; Upstate Roofing and Painting; NanaWall; Pella; Lutron Electronics, Inc.; Kohler; Carlisle; Big Ass Solutions; Way To Grow; LaBella Associates; Resource Furniture; The Western New York Floor Company; O'Connell Electric Company; Thermal Foams, Inc.; CLEI; Echo Global Logistics; Pearl's Premium; Corning, Inc.; SWBR Architects; Apricus Solar Hot Water; Tinkertown Supply; Do it Best; HEP Sales; North Main Lumber; Madison Wood; Northeast Regional Council of Carpenters Local 276; and Southern Tier Builders Association.
In photo above: Ryan Kozlowski, an Alfred State electrical construction and maintenance electrician major from Buffalo, is surrounded by solar panels on the top of Team Alfred's entry in the 2015 US Department of Energy Solar Decathlon.