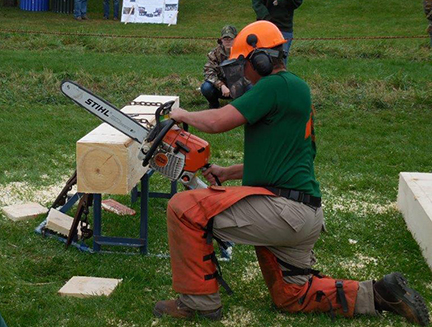 The Alfred State Pioneer Woodsmen's Club on Oct. 3 won two divisions of the Finger Lakes Logging Sports Competition held at Finger Lakes Community College in Canandaigua.
The timber sports match consisted of a number of team, individual, and double events, such as crosscut, log roll, chainsaw, climbing, axe throw, fire build, underhand chopping, and more. The Alfred State club, composed of 24 students, took first place in the men's division, as well as the Jack and Jill division, in which teams included three males and three females.
Coach Scott Bingham said taking first in both divisions his team entered is a great way to start off the season.
"We had to move some people around and change some events at the last minute, but it appears to have paid off," he said. "We have some seasoned, but also new members on the Jack and Jill team, so it was a great pleasure to see such progress in such a short period of time."
Alfred State competed against several other schools Oct. 3, including Finger Lakes Community College, Paul Smith's College, the State University of New York (SUNY) Environmental Science and Forestry Ranger School, Morrisville State, SUNY Cobleskill, and the University of Vermont. The Pioneers won't have much time to celebrate their success, however, as they will soon prepare for their next competition, taking place Oct. 17 at Paul Smith's College.
In photo, Pioneer Woodsmen's Club member Gavin Maloney, a masonry major from Rome, NY, takes part in the chainsaw event.