The Hinkle Memorial Library at Alfred State will celebrate its 50th anniversary this September.
From 9-11 a.m. Sept. 12, as part of Homecoming/Family Weekend, the library will host an informal reception, during which time staff will be present to answer questions about the Hinkle Memorial Library Historical Exhibit in the gallery and to reminisce about the library and campus over the past 50 years. A complimentary continental breakfast will also be provided during this time.
The exhibit, which will run from Sept. 1 to Oct. 2, will include paintings of past Alfred State presidents, and historical photos of the college campus, the original library located on the Alfred University campus, the village of Alfred, and the Hinkle Library.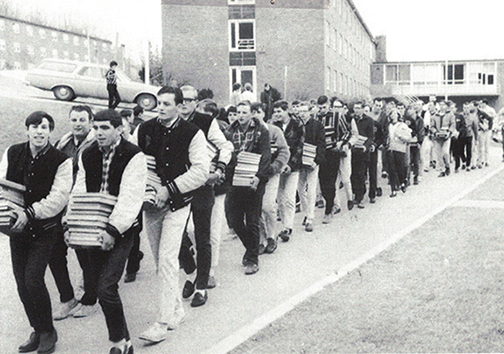 "We're hoping that alumni who are back on campus for the Homecoming activities will stop in and see us," said Alfred State Director of Libraries David Haggstrom. "It will be really cool if there are some who took part in the book brigade 50 years ago."
With the growth of the State University of New York system in the late 1960s and 1970s, the Alfred State campus and library grew, as well. On Nov. 15, 1965, as part of the "book brigade," students lined up at 8 a.m. in the old library, took an armful of books, carried them half a mile across the village of Alfred to the basement of the new library, stacked them in perfect shelf order, then went back for another load of books. With the students' help, instead of taking weeks, transporting the library's entire 22,000-volume collection to its current location took only four hours.
In 1970, the library was dedicated in memory of Walter C. Hinkle, college president from 1961-1964. Hinkle was instrumental in increasing the library appropriations and helping to build the library's collections.
Since its dedication, the library has renovated the main floor and made several additions, including areas for small group or quiet study, the largest open computer lab on campus, an electronic classroom for library instruction and other college trainings, and a new main entrance to the building. The ground-floor renovation to house Technology Services was also completed, and the Marketing and Communications Department has since relocated to the library.
The tagline for the Hinkle Library's 50th anniversary is "50—50—50: 50 Years—50 Donors—50 Dollars." Funds raised through this effort will be used to update the display equipment and furniture in the gallery exhibit space. For information on how you can donate to the library, please visit www.alfredstate.edu/make-a-gift or call 607-587-4313.