Senior students enrolled in Alfred State College's automotive service technician curriculum took a well-deserved lap in the winner's circle recently when they and the car they modified—a 2003 Honda Insight—for the Watkins Glen Green Grand Prix won a fuel economy challenge in their class in the seventh annual contest which promotes awareness of environmentally friendly vehicles and fuels.
Alfred State's vehicle, driven by Automotive Trades Associate Professor and Chair Kent Johnson, competed in the "automotive manufacturer discontinued vehicle" class which included vehicles that are now out of production such as the Geo Metro and ASC's Honda Insight. The students' goal was to create a car that could attain a 100-mile-per-gallon ride.
The students modified the car, donated by alumnus Mark Crounse, automotive service class of 1975, improving its aerodynamics by lowering the vehicle six inches in the rear and four inches in the front, and optimizing all of the vehicle suspension angles; all unnecessary components such as (all of the luxuries) seats (except for the driver's), carpet, etc. were removed to reduce as much weight as possible.
Johnson, a veteran of the Watkins Glen track more accustomed to speeds of 140 miles per hour racing Ford Mustangs, nevertheless took top honors in his class at 89.6 mpg. Jim Fleischman, assistant professor, ASC Automotive Trades Department, served as Johnson's crew chief.
Fuel economy results were determined thusly: hybrid vehicles used onboard computer readings to determine mpgs; other vehicles were weighed immediately before and after the rally to determine fuel use.
Among a number of competitors (45 entries in multiple events), were Cornell University; Corning, Inc.; Rochester Institute of Technology; Auto Tech Club; and Clean Communities CNY.
The Categories of Competition (based on EPA combined highway/city ratings) included
Vehicles rated at 26 mpg and under
Vehicles rated at 27-32 mpg
Vehicles rated at 33- 38 mpg
Vehicles rated at 39-44 mpg
Vehicles rated at 45-50 mpg
Two-wheeled vehicles
Three-wheeled vehicles
Trucks
Vans
Diesel (four-wheeled)
Automotive manufacturer discontinued vehicle ("Other")
Biodiesel
EV (electric vehicle)
LP (liquid propane)
CNG (compressed natural gas)
Eligible vehicles included all hybrid models, plug-in hybrids, hydrogen fuel cell cars, and vehicles running on biodiesel, diesel, flex-fuel, pure electric, as well as other alternate-fueled vehicles such as those powered by vegetable oil, LP, and compressed natural gas.
The Green Grand Prix, a celebration of sustainable transportation, has been billed as the only road rally for alternate-fuel vehicles and hybrids in the United States sponsored by the Sports Car Club of America. All Green Grand Prix activities are designed to bring awareness of alternative and renewable energy to businesses, environmental groups, students, and faculty members from elementary to university level, and the general public.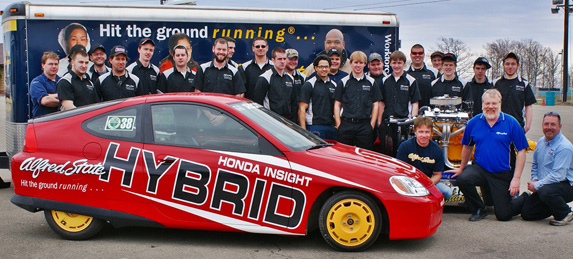 Pictured here, front row, l-r: Johnson, Craig R. Clark, executive director of the Wellsville Campus and dean of the School of Applied Technology; and Fleischman. Middle row, l-r: Vinny Albert, Buffalo; Jay Harms, Wellsville; Thomas Kio, Ulysses, PA; Mark Bartlett, Binghamton; Marlon Sosa, Bronx; Shawn Coveny, Castile; Rob Hamilton, Rochester; Joshua Newpher, James City, PA; and Andrew Von Hagn, Bath. Back row, l-r: Nicholas Wheaton, Cowlesville; Shakeel Worgs, Brooklyn; Brennan Hardy, Canisteo; Jacob Gradydeflaun, Ithaca; Stephen Ward, Darien Center; Sean Murphy, Sanborn; Micah Varno, Franklinville; Chad Bruning, Akron; Brian Smith, Skillman, NJ; Alan Shoen, Lockport; John Mazurek, Tonawanda; Matthew Kemp, Kanona; and Jeremy Siegman, Lido Beach.