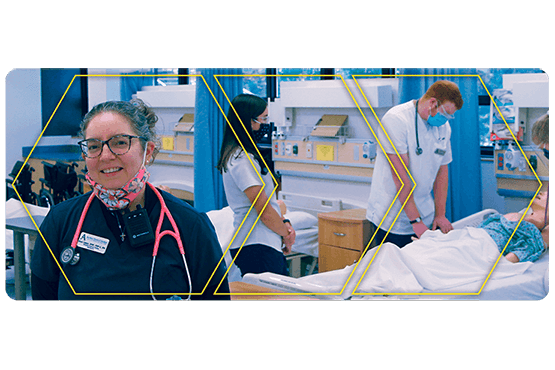 Co-chair of Nursing Department
Jess is the definition of a life changer.
Whether caring for patients, volunteering in her community, or guiding the next generation of nurses, Jess Lippa is all about changing lives for the better.
In addition to being an Alfred State faculty member, Jess is also a family nurse practitioner, a member of her local fire and emergency services department, an adviser to the Hope for Health Club, and so much more. She eagerly gives of her time, talents, and knowledge to so many others, touching lives and making a positive change wherever she goes.
Jess initially joined the Alfred State nursing faculty as an assistant professor in the fall of 2015. After her second semester, she became the lead teacher for the Nursing I class.
Since then, Jess has become the director of Alfred State's associate degree in nursing program, been promoted to associate professor, and is now the co-chair of the Nursing Department.
One of Jess' favorite parts of her job is being able to work with students, particularly helping them to overcome doubts they have about their own abilities. She also enjoys and appreciates the nursing faculty she gets to work with each day.
In recognition of her efforts both inside and outside of the classroom, Jess has received several awards including Alfred State's Leadership through Civic Engagement Award and most recently, the SUNY Chancellor's Award for Excellence in Teaching.
For Jess, however, the biggest reward of all is the impact that she has made on other people, from students, to patients, to neighbors in her community. It's why she teaches, why she volunteers, and why she cares for those in need of medical help, whether they live in Hornell, Houston, or Haiti. When looking at all she has accomplished, it's easy to see that Jess Lippa is the definition of a life changer.