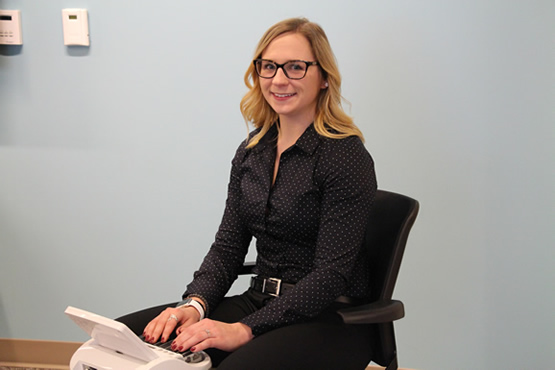 Court and realtime reporting
"Class sizes are small, and you are able to go to anyone in your class and ask for help."
Carissa Kelsch has many reasons why she's glad she enrolled at Alfred State.
As a court and realtime reporting major, Carissa values the fact that she can have one-on-one interaction with her professors and get real-world, hands-on experience.
"Court reporting schools are actually becoming very far and few between and it's kind of scary because this job is in high demand. Most people are having to go completely online to learn it. The fact that I can come on campus, learn from my professors, and get hands-on work experience is phenomenal to me."
Carissa has been able to receive valuable experiences outside of the classroom, too, through her internships at local city and county courts, which have further improved her communication skills and her confidence in her abilities. She also admits she has grown as a person through the clubs she is in: the Robotics Club and the Late Night Events Club.
"Being involved on this campus is one of the key things you should do as a student because it expands your horizons so much. You don't even realize it. My confidence has definitely skyrocketed because of this school."
Carissa also enjoys the friendliness and small-town, close-knit feel of the campus, and the fact that Alfred State has such a diverse student population. She describes her fellow court reporting students as being like a family to her, and notes that while her major is demanding, it's also very rewarding.
"This is a very demanding major, but the class sizes are small, and you are able to go to anyone in your class and ask for help. Plus, the results and the rewards you get from this major are so worth the hard work you put in."