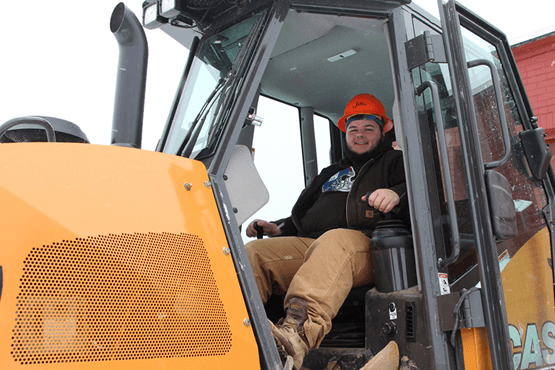 Heavy equipment operations
"I was told if I came into this program, it'd be like playing with the big Tonka trucks."
As a child, Austin Oakes loved to play with Tonka trucks.
It's no wonder, then, that he ended up enrolling in Alfred State's heavy equipment operations program, and learning how to use backhoes, bulldozers, excavators, and more.
"I was told if I came into this program, it'd be like playing with the big Tonka trucks."
The huge amount of time Austin gets to spend operating equipment each day is his favorite part of the program.
"I love operating and the fact that I'm not stuck in a classroom talking about operating. I'm actually getting a chance to sit on the machines."
In addition to gaining real-world experience in his field, Austin has benefited from studying at Alfred State in a number of other ways. Since becoming a Pioneer, Austin has made a lot of friends, and also strengthened his leadership abilities by serving on the executive boards for both Student Senate and the college's chapter of the National Society of Leadership and Success.
Austin strongly recommends Alfred State and its heavy equipment operations program.
"This has been hands-down the best program at teaching you things you didn't know and helping to reinforce things you did know."
Austin Oaks video