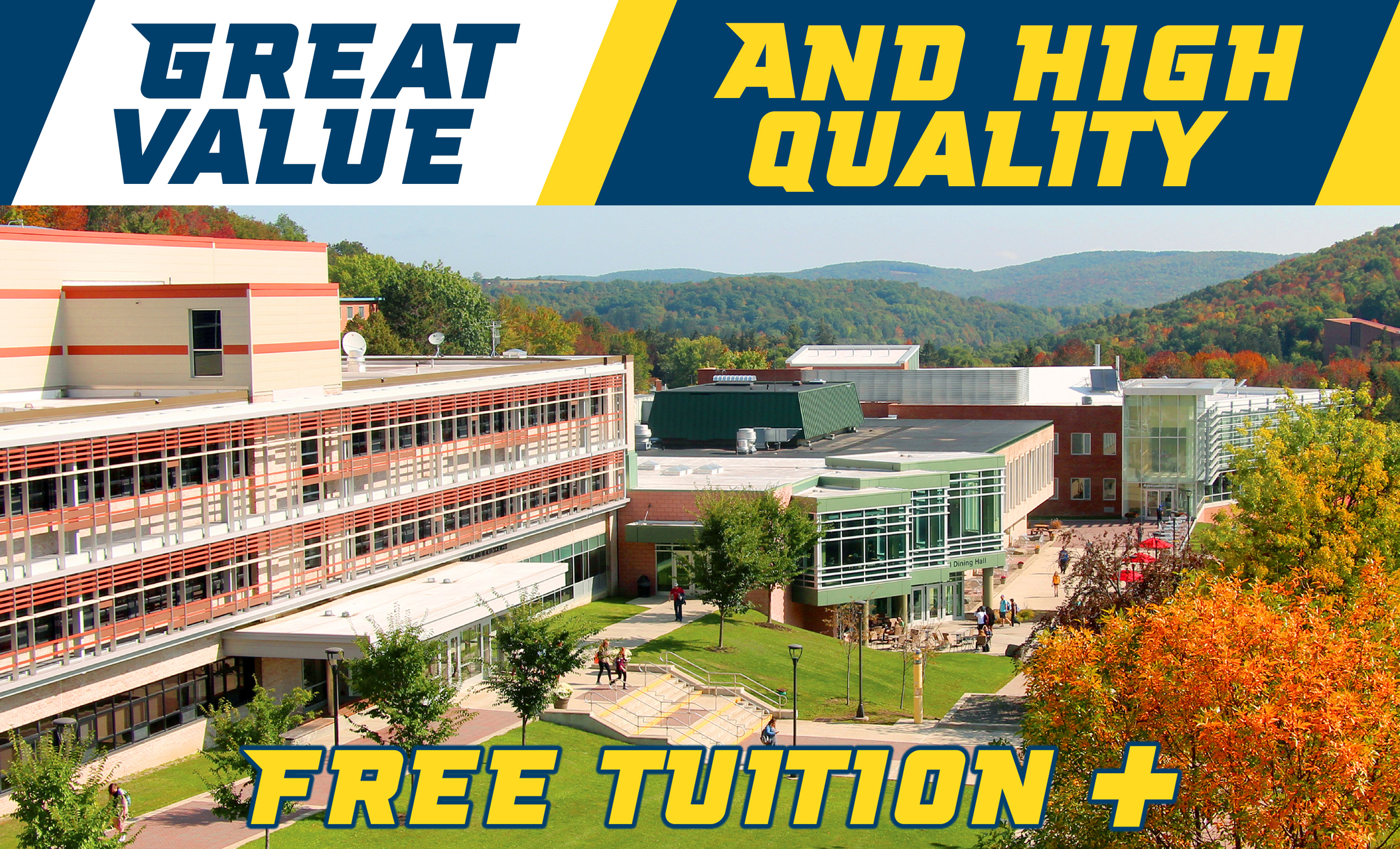 Alfred State works hard to cut your costs through Free Tuition Plus. Your goal of going to college can come true as we help you save money, earn scholarships, make money on campus, and then launch a fulfilling and good-paying career.
Ranked by US News as the #1 SUNY Regional College, Alfred State's beautiful campus has room for you to learn and grow as you build your future. Through hands-on learning, you'll gain skills to launch a fulfilling career. When you visit, meet current students, high five our mascot Big Blue who is "strong as an ox," and see what it's like to be an Alfred State Pioneer.


More and more students are making Alfred State College (ASC) their top choice. An astounding 98 percent of our graduates land a job and start their career or choose to further their education. That success is one reason why US News ranks ASC the No. 1 SUNY Regional College along with top marks for Social Mobility, Least Debt, Best Value, and Best for Vets.
Choose Your Career Path
Other colleges tell you to pick a major. Instead, we say find a career to match your interests.
See our full list of majors and choose from 4-year or 2-year degrees. If you're not sure yet, no worries. We also have tons of advice for undecided students. For working adults looking to add skills for a promotion or to change careers, online learning is flexible, affordable, and valuable.
Hit the ground running ®...
That's our motto at Alfred State. It started because employers kept telling us our graduates have career skills that outperform everyone else. A successful start for your new career is how you will "hit the ground running..."
Every program at Alfred State includes project-based education, hands-on learning, and individual attention to empower you to land a great job or be your own boss. To help you build your career skills, we have hundreds of labs and hands-on opportunities.
Quality Education
The 2023 U.S. News & World Report Northern Regional Colleges list shows Alfred State No. 1 among SUNY schools and No. 6 among all public schools in the 11-state Northern Region. For multiple years, the college has achieved a military-friendly school accommodation and is ranked No. 1 on the Best Colleges for Veterans among SUNY and all NY regional colleges list.
Alfred State also placed an impressive No. 1 SUNY Best Value School among regional colleges. For those who started at another college and are eager now to join ASC, we offer advice and support for transfer students.
Student Life
At Alfred State, you'll have full run of four fitness centers, an indoor swimming pool, 14 residential options along with student townhouses, dining choices in several locations, plus the hub of all activity is the state-of-the-art Student Leadership Center. The Pioneers compete in sectionision III NCAA athletics and an amazing assortment of clubs, sports, and student organizations add to the vibrancy and energy on campus.
Affordable and a Great Value
A college education is an investment, so you want to consider both the cost and benefits. We are very proud to keep our tuition and fees at a reasonable rate, below $8,900 for in-state students. At Alfred State, we offer an education that is both affordable and high-quality.
A campus population of approximately 3,500 students makes us "right-sized." Not too small to limit activities, and not too big or impersonal. With a student-to-faculty ratio of 16:1, professors know their students at Alfred State, so you'll receive the best preparation for a great career.
Make Yourself at Home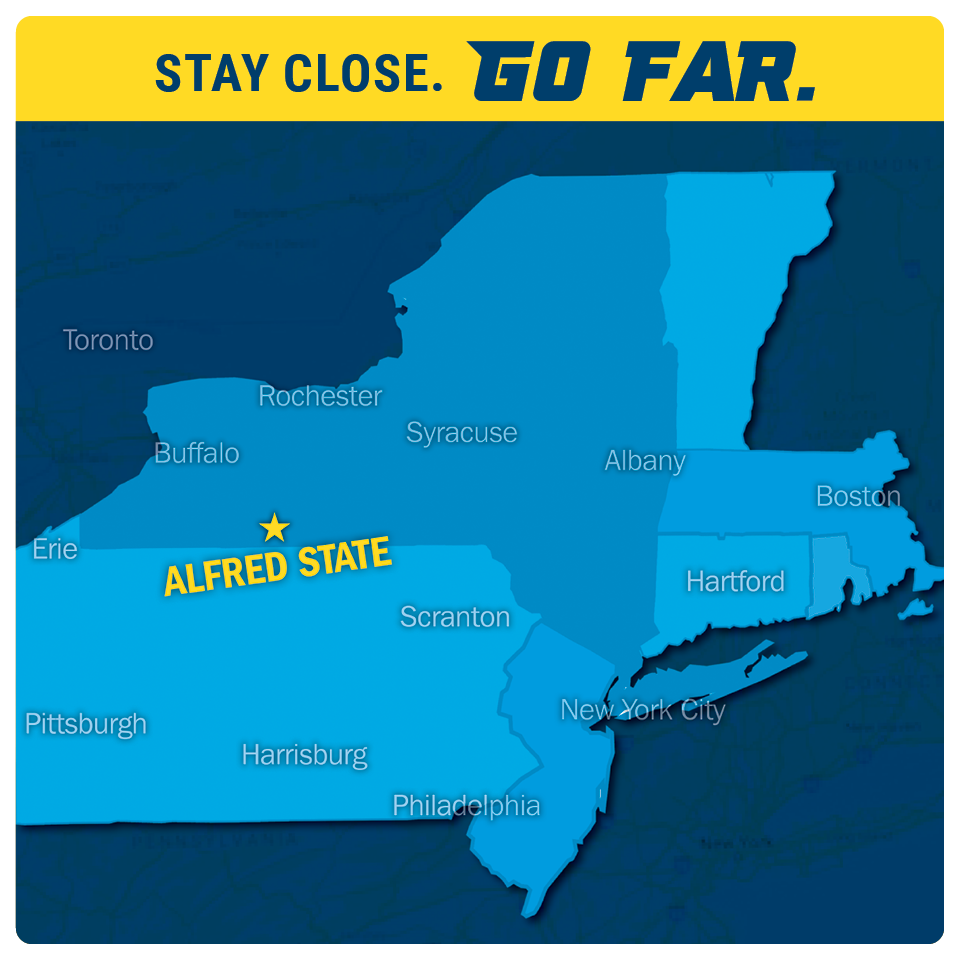 Our location offers jaw-dropping scenic beauty and many ways to enjoy the great outdoors. The area is so pristine and untamed that it's called the Western New York Wilds. Many students note that the rolling hills and unique environment allow them to focus more on studies with fewer distractions. Enjoy Letchworth State Park or the Finger Lakes within an hour's drive. Alfred is an easy driving distance to many locations:
| Location | Distance |
| --- | --- |
| Letchworth Park, NY | 1 hr |
| Rochester, NY | 1.5 hr |
| Buffalo, NY | 2 hr |
| Erie, PA | 2 hr |
| Syracuse, NY | 2.5 hr |
| Utica, NY | 3 hr |
| Scranton, PA | 3 hr |
| Cleveland, OH | 3.5 hr |
| Toronto, ON | 3.5 hr |
| Pittsburgh, PA | 4 hr |
| Albany, NY | 4.5 hr |
| Philadelphia, PA | 5 hr |
| Columbus, OH | 5.5 hr |
| Toledo, OH | 5.5 hr |
| New York, NY | 6 hr |
| Washington, DC | 6 hr |
| Boston, MA | 6.5 hr |
| Detroit, MI | 6.5 hr |
| Richmond, VA | 7 hr |
| Cincinnati, OH | 7.5 hr |
| Indianapolis, IN | 8 hr |
| Chicago, IL | 8.5 hr |
*Drive time estimates from Apple Maps.
| Location | Distance | Location | Distance |
| --- | --- | --- | --- |
| Letchworth Park, NY | 1 hr | Rochester, NY | 1.5 hr |
| Buffalo, NY | 2 hr | Syracuse, NY | 2.5 hr |
| Scranton, PA | 3 hr | Toronto, ON | 3.5 hr |
| Pittsburgh, PA | 4 hr | Albany, NY | 4.5 hr |
| Adirondacks, NY | 5 hr | Philadelphia, PA | 5.5 hr |
| Washington, DC | 6 hr | New York, NY | 6.5 hr |
| Montreal, QB | 7 hr | Cincinnati, OH | 7.5 hr |
| Indianapolis, IN | 8 hr | Louisville, KY | 8.5 hr |