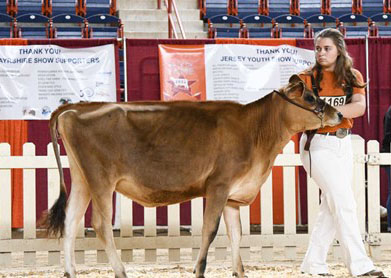 First-year Alfred State agriculture student Hope Avedisian (Hilton) and her heifer Fortune finished 8th at the National Junior Dairy Show in Harrisburg, PA.
Fortune was purchased at the Alfred State Spring Fling Consignment Sale in April. The sale, organized by the ASC Cal Club, find consignors and buyers while managing the washing, clipping, marketing, and taking care of the animals before the sale. 
At the National show, Fortune was 8th out of a class of twenty-five animals. There were over 2,000 dairy animals at the show. Prior to the event in Harrisburg, Fortune was named the Junior Champion Jersey at the Steuben County Fair.
ASC Lecturer Casey Arlig-Hinz is excited about the accomplishment. "I am extremely happy that Fortune went to a good home and was raised and shown by such a capable and passionate youth as Hope."