The 2022 Hemmings Motor News Great Race presented by Hagerty Drivers Club rolled through Alfred State's Wellsville campus. The nine-day, 2,300-mile adventure stopped on the Applied Technology campus for a lunch break as competitors drive from Rhode Island to North Dakota.
Alfred State is no stranger to the Great Race. A team of Pioneers has competed in the X-Cup competition five of the last seven races. The 2022 race did not feature an Alfred State team but Olivia Gadjo, a recent graduate of motorsports technology, was part of the RPM team competing in a 1966 Ford Mustang.
Automotive professor Mike Ronan connected Gadjo with Nick Ellis, the executive director of the RPM Foundation. "Nick was looking for people to participate and talked to Mr. Ronan. Mr. Ronan thought I would be perfect for this. I contacted Nick and here I am."
"It has been awesome. I was preparing for a lot less people but there is so many people. We had very little knowledge of what we were doing when we first started but I think we are doing pretty well now."
"When I originally heard we were doing the Great Race I thought it'd be like on the other side of the country but the fact that we're actually going through my home state and where I went to school is really cool."
Ronan who has led and advised Alfred State's previous teams in the race was all smiles when talking about the event.
"It was an Alfred State alum that introduced us to the Great Race. A connection that has made over $35,000 in scholarships for our students. We have current and past students here visiting, people from all over Western New York coming to see some of the most famous cars in the world, and we have the race participants themselves right here in Wellsville."
Alfred State President Dr. Steven Mauro echoed Ronan's excitement. "I have to tell you how excited I am to be at the Great Race stop at our Wellsville campus. It is a beautiful day with some beautiful cars. The action is non-stop as the racers come in."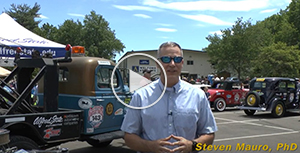 Spectators lined the entrance to campus and wandered the parking lots as over 120 classic cars rolled onto campus. The Great Race participants enjoyed lunch in the culinary arts building before hitting the road once again for their next stop.
This was the first time the Great Race had been to Wellsville since 1994. 
Plans are already underway for Alfred State students to participate in the 2023 race which will begin in Florida.