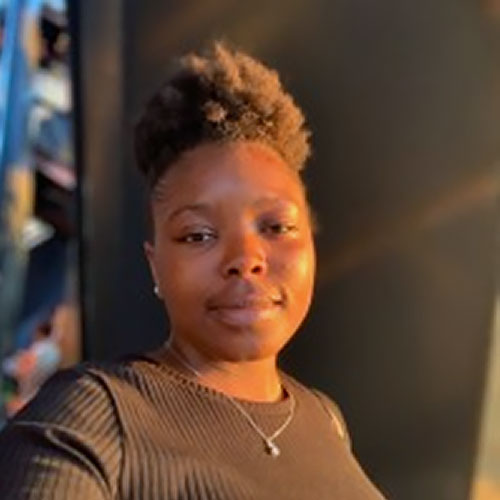 Janel Farrell, an Alfred State human services management major, is one of the inaugural class of EOP Student Ambassadors. Farrell is one of 21 students from 20 different SUNY campuses to be part of the program.
The new Educational Opportunity Program (EOP) Student Ambassadors are being added to mentor their fellow students, create a student EOP support network of EOP students across the SUNY System, advise the Chancellor on strengthening the program, and help inspire more students to seek opportunities through EOP.
Farrell is a first generation college student who is expecting to graduate in May 2022. She would love to be a Child Life Specialist, an entrepreneur, a blogger, and an author. During her time at Alfred State, she has been a resident assistant, interned in the cultural life center, served student senate as vice president of diversity, inclusion, and belonging, was a campus tour guide, and is a Chi Alpha Epsilon inductee.
Farrell recalls why she chose Alfred State. "Alfred State made me feel the most welcomed. I loved the atmosphere and loved how optimistic the prospective students sounded."
Her advice to her fellow students and to the EOP students she will work with is clear. "Do your best and be the best version of yourself. Stay focused on why you came to college and stick with it. It's ok to change, everyone changes, just make sure you change for the better."
The program first proposed by Giovanni Harvey, student leader at SUNY Polytechnic Institute and an EOP student, is a way to build on the success of EOP by strengthening peer mentorship and networking for students from historically-excluded and underserved backgrounds. It continues the Chancellor's commitment to bringing student perspectives into the decision-making process at SUNY to ensure students' needs are addressed in ways that work for them.
"For decades, the Educational Opportunity Program at SUNY has changed the lives of countless students from across every corner of the state, and we must continue to build upon that legacy of access, opportunity, and success for the next generation of students," said SUNY Chancellor Jim Malatras. "Our 21 new EOP Student Ambassadors will help us do just that by bringing their voices to the table and guiding SUNY leadership on ways to further increase access to SUNY, strengthen the support EOP students need on campuses to succeed, and continue to increase retention and graduation rates."