At a glance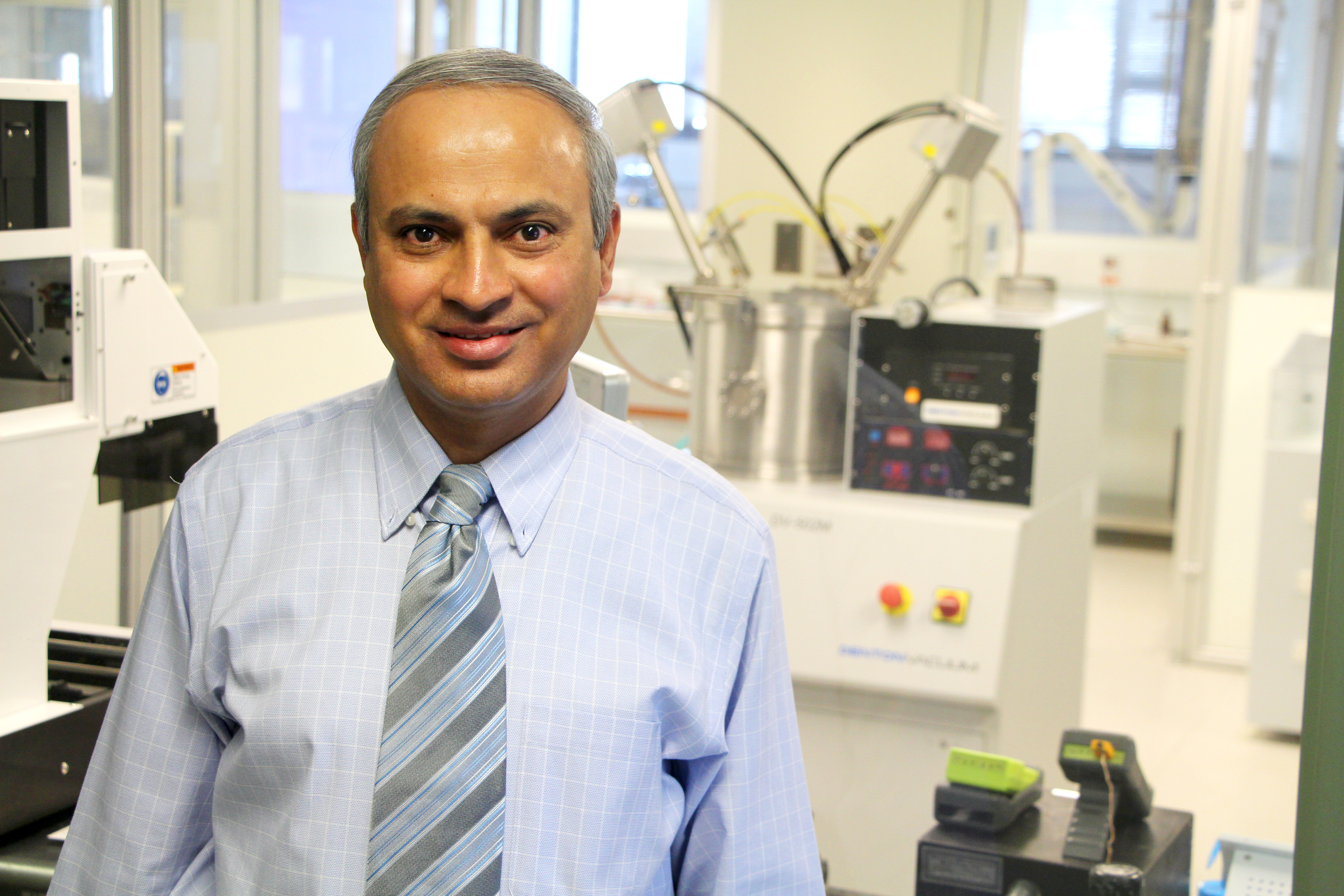 Dr. Reza Rashidi, an associate professor and chair of the Mechanical and Electrical Engineering Technology Department, has made a career out of making big differences with little devices.
Dr. Reza Rashidi wants you to think for a moment about your cellphone. Consider, if you will, all of its amazing features and capabilities, from taking pictures and videos, to serving as a flashlight and thermometer, to all of the apps you use on a daily basis.
Without question, the cellphone has come a long way since the days when its sole function was simply making calls. But just how, exactly, are all of those features and capabilities made possible? 
The answer: Micro-Electro-Mechanical Systems or MEMS, which are essentially miniaturized mechanical and electro-mechanical devices and structures that are made using the techniques of microfabrication. This miniaturization technology can be used for so many purposes, from cellphones, to wearable medical devices, and much more. MEMS have been used along with other technologies such as microelectronics, telecommunication, and software to create complex devices.
MEMS technology may focus on small things, but the field itself is a very large focus for Rashidi, an associate professor and chair of the Mechanical and Electrical Engineering Technology Department, who has made a career out of making big differences with little devices.
Rashidi, who grew up in Kerman, southeast of Iran, first became interested in the field of engineering when working on his father's car. Replacing the brake pads and tires, he began to think about what made them able to withstand severe weather conditions.
"I was curious as to how they are made and what kind of materials are used in those kinds of parts," he said. "I was always interested in materials engineering."
It's no surprise then that Rashidi would go onto earn his bachelor's degree in materials science, with a focus on metal forming, from the Sharif University of Technology in 1993. Two years later in 1995, he received his master's degree in materials science, focusing on development of an alkaline fuel cell, from the University of Tehran.
Upon earning his master's, Rashidi began working in the engineering industry, holding several positions at the Niroo Research Institute in Iran, including research engineer, vice president of training and education, and director and faculty member at the Chemistry and Materials Research Center.
After several years of working in the field, Rashidi developed an interest in mechanical engineering, particularly the area of MEMS technology, which has become a key professional focus and passion of his. In 2006, he left the Niroo Research Institute for the University of British Columbia (UBC), in Vancouver, BC, where he began his MEMS research, serving as a research assistant and a teaching assistant. At UBC, Rashidi earned a minor degree in engineering management and entrepreneurship in 2009 and a PhD in mechanical engineering in 2010, completing his Postdoctoral Fellowship in 2011.
While at UBC, Rashidi worked on some very impressive MEMS-related projects in biomedical engineering, including developing a "smart stent." 
"We took really small pressure sensors we made in the lab and converted a normal stent to an inductive stent that can communicate wirelessly to a device outside," he said. "Using this technology, a smart stent can give patients the capability to monitor blood flow and pressure 24/7 at home after a coronary angioplasty procedure."
Another incredible project involved developing a non-invasive system that allows patients to wirelessly monitor brain aneurysms at home after a coil implantation procedure is done to prevent a premature rupture. This novel method avoids the use of current diagnostic methods such as X-ray and CT angiography that are usually extremely expensive, have limited availability, and involve invasive procedures. 
In 2011, Rashidi became a senior engineer at Siemens Energy in Charlotte, NC, where he worked on a number of multimillion-dollar projects, focusing mainly on failure and root cause analysis of gas turbines and simulation for design of weldments in steam and gas turbines. Five years later in 2016, Rashidi was hired as an assistant professor and brought his many years of educational, industrial and leadership experience and real-world knowledge to Alfred State.
As an instructor, Rashidi greatly enjoys that he is able to directly pass on the knowledge he gained working in the industry to his students.
"I'm glad I can use my industrial experience I have gained in my courses and course materials," he said. "I usually give students examples of what I learned."
One of the best tools for hands-on instruction that is available to Rashidi at Alfred State is the Micro-Nano Fabrication Laboratory, which opened in the spring of 2017. Located on the fourth floor of the Engineering Technology Building, the facility houses a clean room for advanced microsensor, microactuator, and circuit development. Within the lab are state-of-the-art instruments for designing, fabricating, characterizing, and testing complex micro-scale structures and devices in MEMS and microelectronics.
According to Rashidi, one of the most exciting aspects of the clean room is that it is available to undergrads, which is a big advantage for Alfred State engineering students.
"If you go to other schools, usually these kinds of clean rooms are used for grad students. You rarely find schools that have clean rooms to run full hands-on courses for undergraduate students," he said. "This results in lack of experience within the industry. In New York and other states, there are so many companies working in the industry and unfortunately, they can't find enough undergraduates with BS degrees to work in some positions. At Alfred State, we are making students ready for this type of industry."
While gaining real-world experience and becoming prepared for in-demand careers, Alfred State students have worked on some amazing projects with Rashidi. These include creating smart Band-Aids that monitor the healing process of a wound, and a vest that utilizes triboelectric nanogenerators to generate electrical power from motion and illuminate an attached LED light, which makes it safe to run at night time. In the midst of the ongoing pandemic, students have also been developing masks to monitor body temperature using a sensor.
"What happens here is, we decided to create a mask that creates power when you speak," Rashidi said. "When you speak, you vibrate the mask and the mask actually uses the triboelectric technology to generate some power, and that is used to power the temperature sensor 24/7."
In addition to his many years of research, testing, teaching, industrial, and management experience, Rashidi has written over 30 research articles and is currently a reviewer of several journals and conferences worldwide. Together, Rashidi and his students at Alfred State have published and presented 15 articles as the results of their research in international journals and conferences that can be viewed in Google Scholar. 
Additionally, Rashidi has been a member of professional organizations including the American Society of Mechanical Engineers (ASME), and has received several awards, including the prestigious 2008 British Columbia Innovation Council Award, which he earned because of his innovative research for MEMS technology in pulp and paper industry. On a personal note, Rashidi is married to fellow Alfred State faculty member Dr. Maryam Nasri, and together they have one son who is attending college. 
With the expertise of faculty such as Dr. Reza Rashidi and cutting-edge facilities and technology available, it's no wonder then that Alfred State engineering students are becoming so well prepared to enter into the workforce, particularly in high-demand MEMS jobs that involve creating incredible, life-changing technology.
So the next time you look at your cellphone or some other object that relies on miniaturized technology to function, be sure to stop for just a moment and appreciate both the ingenuity and the people behind it – people such as Dr. Reza Rashidi who are making very big changes in the world, one small device at a time.