A recent US Department of Education report shows that Alfred State College is performing higher than its peer institutions when it comes to graduation rates among all students and those of different race/ethnic backgrounds.
A component of the 2020 Integrated Postsecondary Education Data System (IPEDS) Feedback Report focused on the fall 2013 cohort of students in both associate degree and bachelor's degree programs and illustrated the percentage of those students that graduated within 150 percent of "normal time" (within three years for associate and within six years for bachelor's).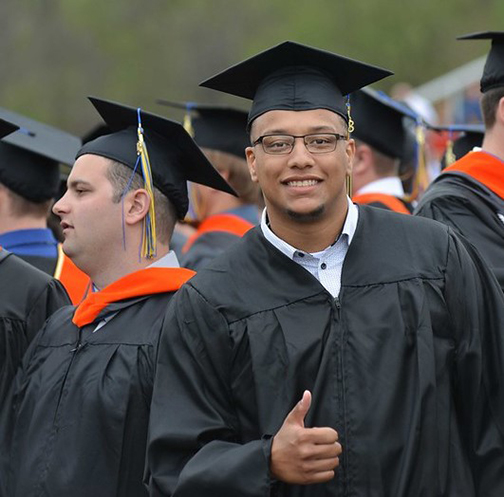 The report showed that 655 out of the 1,094 first-time, full-time Alfred State students from the 2013 cohort graduated within 150 percent of normal time, resulting in an overall graduation rate of 60 percent. This figure was nearly double that of the median rate of ASC's 42 peer institutions, which was 31 percent.
When it comes to different race/ethnic groups, Alfred State also outperformed its peers for each group in which it had students in the 2013 cohort. The report showed that Alfred State's graduation rate among Black or African American students was 39 percent, which was more than double the peer median of 18 percent. The other groups in which ASC's graduation rate exceeded the peer median include American Indian or Alaska Native, Asian, Hispanic/Latino, White, Two or More Races, Race/Ethnicity Unknown, and Nonresident Alien.
Alfred State Provost Dr. Kristin Poppo said, "Alfred State College makes an extraordinary effort to help every student succeed. We believe that our emphasis on hands-on learning and our engaged faculty makes the difference. We are proud of the fact that our students' success extends across race, ethnicity, and social class."
The Integrated Postsecondary Education Data System (IPEDS) is a system of survey components that collects data from all institutions that provide postsecondary education and are eligible to receive Title IV funding across the United States and other US jurisdictions. The purpose of the IPEDS Data Feedback Report is to provide institutional executives a useful resource and to help improve the quality and comparability of IPEDS data.