Jon Shay and his family were among the earliest supporters of Alfred State College's Major Gifts Campaign.
Thanks to their generosity, the college was able to open The Shay Family Athletic Hall of Fame, the new home for the 88 individuals and 10 teams that have been honored in the past. Located on the main floor of the Orvis Activities Center, the Hall of Fame features plaques honoring each of the college's 23 classes of inductees, a Krueger International conference table, 24 logoed Dream Seat chairs, a pair of logoed couches, and 60-inch touch screen monitors that allow visitors to explore the new digital Hall of Fame.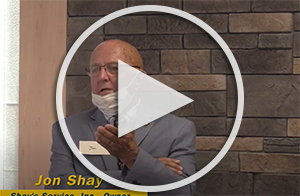 Speaking at a ribbon-cutting ceremony to commemorate the opening of the new facility, Jon Shay said, "Thank you very much. I know this will last for eons to come and we are as a family very appreciative of everything that you (Alfred State) have done."
The Shay Family Athletic Hall of Fame is just one incredible example of what can result from Alfred State College's Major Gifts Campaign. This initiative launched in September to raise $8 million for athletics, new programs, scholarships, technology, and the greatest needs of the college. The campaign is fast approaching $3.5 million in pledges and donations thanks to the generosity of donors such as the Shay family.
Jon Shay has been a lifetime supporter of commerce and community in Livingston and Allegany counties, a member of the Alfred State President's Society, and a past member of the Alfred State Development Fund Board, Inc., a 501(c)(3) fundraising corporation.
After graduating from Dansville High School in 1960, he quickly became involved in the family trucking business - Shay's Service, Inc. He remained in an ownership role of Shay's Service and other family corporations until 2012.
During these 50-plus years, Shay oversaw the growth of existing family businesses with his brother Tim, and father, Harold. He was an integral part of the creation and expansion of new family businesses: Main Tire Exchange, Inc., HASCO Realty, and Dansville Mini-Storage, Inc. Shay was also a president of the New York State Motor Truck Association.
He and his wife, Linda, were married in 1963 and had three daughters, Kelly (ASC '85), Kristine (ASC admissions counselor 1990-99) and Nicole. Like his father before him, Shay has demonstrated enormous generosity in giving back to his community. He is a former member and president of the Noyes Memorial Hospital Board of Directors, a former member and president of the Tri-County Family Medicine Board of Directors, past Chair of Noyes Health Foundation, former member and president of Dansville Chamber of Commerce, current and 40-plus-year member of the Dansville Rotary Club member and multiple term president.
The Shay Family Athletic Hall of Fame was constructed to honor Pioneer Excellence, the Shay family, and especially in loving admiration of Jon's father, Harold A. "Tim" Shay (June 12, 1913 – Oct. 27, 2009) and brother, Timothy L. Shay (June 2, 1950 – Sept. 26, 2016).
For more information on Alfred State's Major Gifts Campaign, contact Major Gifts Officer Jay Wilder at 607-587-4010 or at wilderjj@alfredstate.edu, or reach out to Director of Development Jason Sciotti at 607-587-3936 or at sciottjm@alfredstate.edu.