Alfred State College (ASC) launched a new virtual tour that is custom-built based on feedback from students to give prospective students and their families an even better way to check out the college right from the comfort of their own homes.
With the upgraded experience, users can now virtually navigate through Alfred State's campuses and buildings in several different ways by choosing an aerial tour, a road tour, or a walking tour. While most virtual tours include a menu of building names, ASC provides areas to explore that are more in tune with what new visitors are seeking.
"Having students evaluate many different virtual tours to identify what's working and what's not that helpful was instrumental in our development," said Russ Nunley, chief marketing officer for ASC. "For example, you don't have to know that Shults is a residence hall when taking the tour. From the aerial tour menu you can choose residence halls, academics, athletics, or student life and explore what you are seeking without guessing from a list of building names like most virtual tours."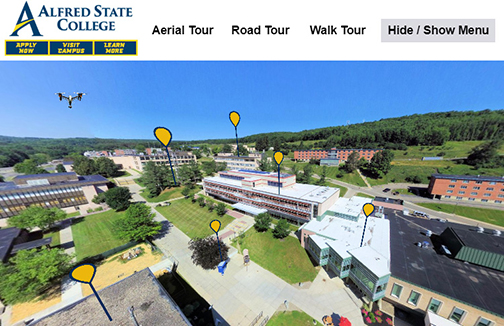 Arrows on the ground provide for easy virtual navigation in the road and walking tours. In the aerial tour, users can click on drone icons in several positions in the sky to see different points of view of the campus from above. Users can also take a virtual drive off campus into the village of Alfred in the road tour, and easily transition from one type of tour to another. The 360-views of campus are also available on Google Maps.
Vice President for Enrollment Management Betsy Penrose said, "Alfred State recruits students from across the state and nation and not all students are able to visit the campus. A virtual tour offers prospective students an opportunity to see the campus and decide if they would feel at home here at Alfred State. It is the next best thing to being here!"
The new virtual tour was built by incorporating many different best practices in order to create a unique virtual tour based on student input. Research showed that students reacted poorly to spokesmodels narrating entire tours with scripts. Instead Alfred State worked to provide an intuitive and authentic experience.
Jim Hilker, president of PlacesMobile Inc. and creator of 3D Interactive Campus Virtual Tours, was excited to be able to incorporate three different ways to virtually explore the campus and facilities at Alfred State.
"Although we have implemented these options individually in other projects, this was our first college campus virtual tour project that incorporated all three of those ways – aerial tour, walking tour, and driving tour – into one finished product," he said.
To take the virtual tour of Alfred State and see what the college has to offer, visit www.AlfredState.edu/virtual-tour. To arrange an in-person visit, please call 1-800-4-ALFRED or 607-587-4215.