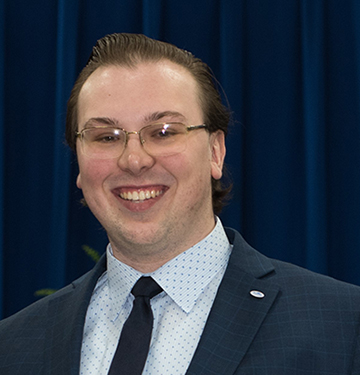 Alfred State's own Steven Lock, a machine tool technology major from Silver Creek, recently completed an incredible internship with NASPA, the leading association for the advancement, health, and sustainability of the student affairs profession.
Specifically, Lock was one of three interns who assisted with the 2019 Civic Learning and Democratic Engagement (CLDE) Meeting in Fort Lauderdale, FL, a conference that brought together faculty, student affairs professionals, senior campus administrators, students, and community partners from around the country.
According to NASPA's website, the conference is "intended to facilitate exchanges of knowledge and develop a sense of community around our shared civic learning and democratic engagement work."
"Together we will ensure that students graduate from our colleges and universities – both public and private – prepared to be the informed, engaging citizens that our communities and our democracy need," the website states.
Lock and his fellow interns were responsible for a student pre-conference, as well as organizing meet-up sessions for students throughout the conference. He said that the pre-con event was "extremely successful," noting that students were very attentive, interested, and engaged with the presentations and activities.
"We had a long three-hour block session, so we broke it up and at each hour we had a small break and throughout the pre-con we had some activities," he said. "Our main goal was to connect and network students with each other, and I can safely say we succeeded in doing so. Students were quick to make friends and network with each other during the pre-con and throughout the conference."
As for the conference itself, Lock described it as "amazing" and one of the best that he has ever attended.
"The attendees were the height of the conference for me," he said. "There were so many amazing people to meet and network with. Usually it's hard for me to network, but everyone at CLDE were extremely welcoming and I made a lot of new friends that I hope to see again in the future. There was a great sense of kinship among everyone attending."
Stephanie King, director of Civic Engagement and Knowledge Community Initiatives at NASPA, said, "Providing national guidance for students engaging in civic learning and democratic engagement at colleges and universities is no easy feat. Steven was able to contribute as part of the intern team with NASPA to bring light to civic agency of students as they consider their roles as civic champions. NASPA if grateful for the time and experience that Steven was able to contribute to our efforts."
Interning for NASPA and the CLDE Planning Committee, Lock said, "has been the best experience I've ever had."
"I am extremely honored to have had the opportunity," he said. "This would not have been possible if not for the support from (Director of Civic Engagement) Jonathan Hilsher and (Director of Student Engagement) Troy Morehouse. Thank you both so much."